Fortnite
How to Get a Victory Crown in Fortnite Chapter 3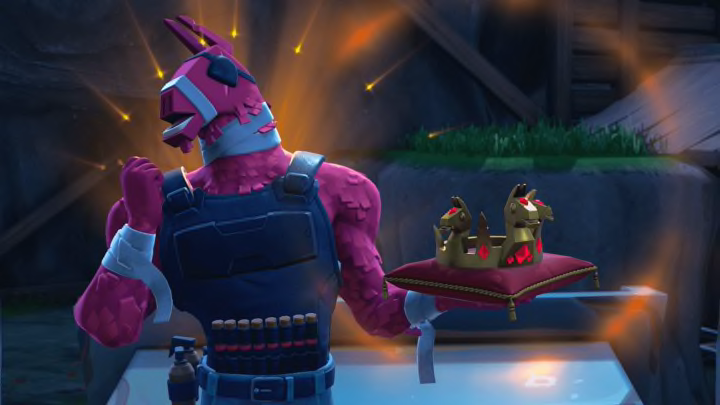 Image courtesy of Epic Games
The Victory Crown cosmetic is a visible brag in Fortnite. So, how do you get one?
Big things have been happening in Fortnite, with Chapter 3 kicking off to an explosive start. A brand new island and new quests are only a fraction of what's been added to the latest chapter. Fortnite Chapter 3, Season 1: Flipped has added a new mechanic to the Battle Royale, enabling players to show off their skills going into a match. The Victory Crown is a new, temporary cosmetic that proves to players that you're a force to be reckoned with.
You'll need to earn your Victory Crown, and hang onto it. Here's what you need to know.
How to Get a Victory Crown in Fortnite Chapter 3
Victory Crowns are awarded to players who rank highly enough in a match - win a crown and you'll start your next match with it atop your head. You won't necessarily need to get a Victory Royale, though. The requirements for a Victory Crown are different depending on the game mode you're playing:
Solo: place in the top four players
Duos: place in the top two teams
Trios: win the match
Squads: win the match
It's a bit easier to earn a crown in Solos or Duos, but with a decent Trio or Squad you should have no problem earning a crown for yourself. Hold onto your crown during your next match to earn bonus XP. If you manage to win whilst wearing the crown then you'll earn yourself an exclusive emote.
Of course, while the crown is a great bragging point it's also a bit of a target. Keep your wits about you in order to defend your title.
Fortnite Chapter 3 Season 1: Flipped kicked off on Dec. 5, and is available now on PlayStation 4, PlayStation 5, Xbox One, Xbox Series X|S, Nintendo Switch, Windows PCs, macOS, iOS, and Android.