How to Get Apex Legends Pathfinder Edition Skin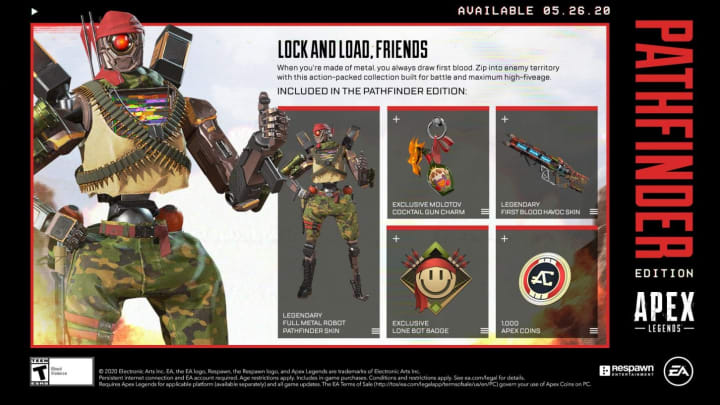 How do you get your hands on the new Pathfinder Edition skin in Apex Legends? / Photo by Respawn Entertainment
How to get Apex Legends Pathfinder Edition skin will cost you some money. Like Octane, Lifeline and Bloodhound before, Pathfinder is the face of the new physical edition for Apex Legends.
How to Get Apex Legends Pathfinder Edition Skin
These editions include cosmetics themed around a specific Legend, and are sold as the physical releases for Apex Legends in retailers. You don't need to go out to the store and buy it, as you can get them digitally. The packs cost about $20 each.
This time it's Pathfinder's time to shine, and the Pathfinder Edition comes with a slew of cool cosmetics, including a new Legendary Skin.
Apex Legends: Pathfinder Edition comes with the Legendary Full Metal Robot skin, Molotov Cocktail charm, First Blood Havoc skin, Lone Bot badge and 1,000 Apex Coins.
The cosmetics have visual and name references to various pieces of Vietnam War cinema, like Full Metal Jacket and First Blood, the first film in the Rambo series. The trailer is even cut like an old war movie from the 80's.
Unfortunately, this Pathfinder Edition comes hot on the heels of a major nerf to his Grappling Hook ability. Players joked that you can watch the trailer for the Pathfinder Edition and still have five seconds to kill before the Grappling Hook cools down.