How to Get Diamond LeBron James in NBA 2K24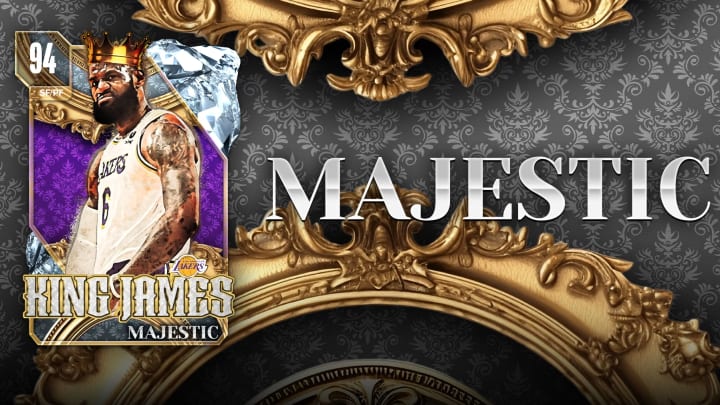 Here's how to get Diamond LeBron James in NBA 2K24. / Visual Concepts
Players can get a Diamond LeBron James in NBA 2K24 as the Majestic event unfolds in MyTEAM.
Dominating NBA 2K24 MyTEAM requires the best Player Cards in the game. From NBA legends to current champions to rising stars, MyTEAM offers fans countless options to build their dream team online. Although there have been plenty of S-tier cards so far in the last few months, the upcoming 94 OVR Diamond LeBron James will easily be the above the rest.
Here's how to get the Diamond LeBron James card in NBA 2K24.
How to Get Diamond LeBron James in NBA 2K24
To get Diamond LeBron James in NBA 2K24, you must complete The Majestic: King James set in the MyTEAM Majestic event. The set consists of 12 cards, and 10 must be earned via Agendas or from Player and Pack Markets.
The final two Diamond cards are Collection Rewards releasing on Nov. 17 and Nov. 22. The entire Majestic event leads up to the 94 OVR LeBron James card.
The event consists of four drops throughout the next week of November, each with exclusive Majestic Cards players can earn until Season 3, including a Ruby T.J. Warren, Emerald Darrell Armstrong, and more. There will be a specific challenge to unlock each card, making the journey to Diamond LeBron James quite the grind.
Diamond LeBron James Attributes in NBA 2K24 MyTEAM
The Diamond LeBron James card consists of the following attributes in NBA 2K24 MyTEAM:
Shooting/Scoring/Playmaking Attributes
Shot Close: 95
Shot Mid: 85
Shot 3pt: 88
Shot IQ: 50
Free Throw: 80
Offensive Consistency: 95
Driving Layup: 97
Standing Dunk: 80
Driving Dunk: 97
Draw Foul: 94
Post Moves: 84
Post Hook: 82
Post Fade: 86
Hands: 90
Speed with Ball: 95
Ball Handle: 87
Passing Accuracy: 90
Passing Vision: 70
Passing IQ: 85
Defense/Rebounding Attributes
Interior Defense: 90
Perimeter Defense: 90
Help Defense IQ: 82
Lateral Quickness: 93
Pass Perception: 90
Steal: 88
Block: 80
Defensive Consistency: 80
Offensive Rebound: 80
Defensive Rebound: 80
Athleticism
Speed: 96
Acceleration: 90
Vertical: 94
Strength: 90
Stamina: 98
Hustle: 85
With a 97 OVR in both offense and defense, Diamond LeBron James will be unstoppable in MyTEAM.
For more on NBA 2K24, feel free to check out: