How to Get Lara Croft in Warzone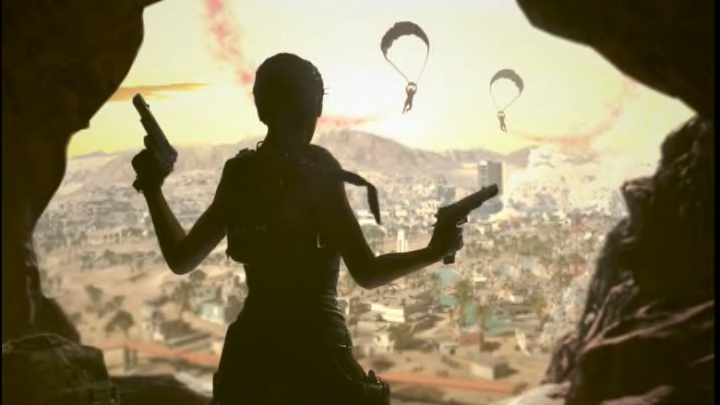 Here's how to get Lara Croft in Warzone. / Activision
Call of Duty and Tomb Raider fans are eager to know how to get Lara Croft in Warzone.
Call of Duty: Warzone Season 5 has already featured two mainstream crossovers, bringing Snoop Dogg and Nicki Minaj to the Battle Royale. Now, Activision has officially revealed the next familiar face set to join Warzone: Lara Croft, the protagonist of Tomb Raider. The quick teaser shows the character's iconic outfit and braid as she prepares to drop into the Battle Royale.
Here's a breakdown of how to get Lara Croft in Warzone.
How to Get Lara Croft in Warzone
Fans will be able to get Lara Croft in Warzone by purchasing her Operator Bundle when it goes live in the store. Although the exact details surrounding the Bundle's contents are still unknown, we can expect the Lara Croft Bundle to contain Tomb Raider-themed cosmetics, including a Weapon Charm, Loading Screen, and Emblem.
The Season 5 Reloaded roadmap should reveal more intel about Lara Croft's Bundle, but it is safe to assume that it will come with some Weapon Blueprints as well. Fans will simply need to head over to the store and buy the Bundle to get Lara Croft in Warzone.
Warzone Lara Croft Release Date
As of now, there is no confirmed release date for the Warzone Lara Croft Operator. However, since Activision already teased the skin, we can expect Lara Croft to be released sometime in Warzone Season 5 Reloaded, set to drop on Wednesday, Aug. 30.
Lara Croft, along with her Bundle accessories and Weapon Blueprints, will likely be eligible to carry over into Call of Duty: Modern Warfare 3, so do not worry about only have the Operator until Modern Warfare 3 launches on Nov. 10, 2023.
How to Get Lara Croft in Warzone: Price
Activision has not yet confirmed the price of the upcoming Lara Croft Bundle in Warzone, but we can expect it to cost 2,400 COD points. Almost all crossover Bundles in Call of Duty, including Nicki Minaj and Snoop Dogg, are priced at 2,400 COD points.
We can expect more concrete details surrounding the Bundle's items closer to the release date.