How to Get Secret Animated 'Ghoulie' Camo in Warzone The Haunting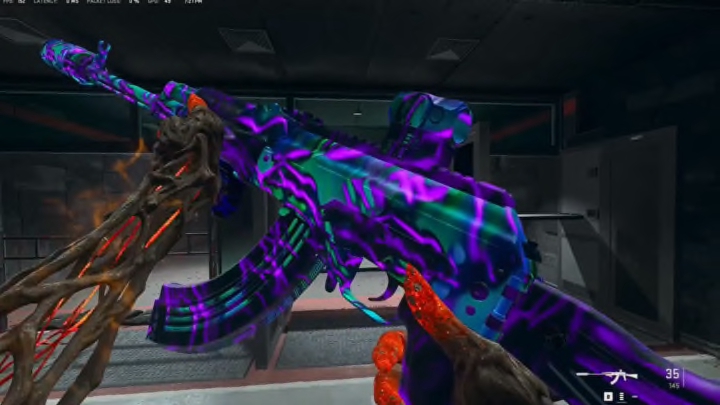 Here's how to get the secret Ghoulie Camo in The Haunting. / Activision via @ModenasHD
There is a secret animated Ghoulie Camo players can get for free in Call of Duty: Warzone's The Haunting.
The Haunting offers plenty of rewards for players as they explore a nighttime Al Mazrah, Vondead, Zombie Royale, and more. The easiest way to get Halloween-inspired prizes is by collecting souls. Although most of the rewards have already been revealed, there is an Easter egg animated camo coming next week that fans can unlock for free.
Here's how to get the secret animated Ghoulie Camo in The Haunting.
How to Get Secret Animated 'Ghoulie' Camo in Warzone The Haunting
To get the secret animated Ghoulie Camo in Warzone's The Haunting, players will have to collect a certain number of souls by the end of the event. As the final reward in The Haunting, players can expect the Ghoulie Camo to cost around 1,000 souls.
The Ghoulie Camo becomes available to unlock on Tuesday, Oct. 24, 2023. Although the current in-game icon is simply a locked screen, the animated camo will appear in just a few days.
Those who want to get the animated camo as soon as it drops must get busy collecting souls.
How to Collect Souls in Warzone The Haunting
To collect souls in Warzone's The Haunting, players must eliminate opponents and bosses. They can also find souls from looting chests. There is a limit to how many souls players can collect in a single match and mode, though, so acquiring a great number of them will take some time.
Fastest Way to Collect Souls in Warzone The Haunting
The fastest way to collect Souls in The Haunting is to play Vondel Lockdown. Those in a Vondel Lockdown match can collect 16 souls per match, four more than smaller Multiplayer maps.
Although some players might prefer loading into Shipment to rack up quick and easy kills, the limit of 12 souls per match provides a frustrating ceiling. At the end of the day, though, it comes down to personal preference for which mode and map you want to focus on.