Fortnite
How to Get Thanos Skin in Fortnite Season 7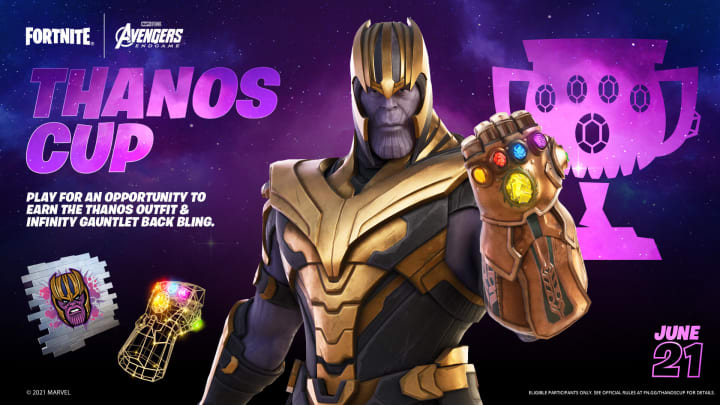 How to get the Thanos skin in Fortnite Season 7, explained. / Photo courtesy of Epic Games/Marvel
Thanos has returned in Fortnite Season 7, giving players a chance to unlock him as a skin. It's been quite some time since his first appearance, which took place back in Fortnite Season 4. At that time, players could transform into Thanos temporarily, but couldn't own him as a skin. Now, Epic Games has returned to the character, allowing players to play as Thanos permanently.
How to Get Thanos Skin in Fortnite Season 7
To get the Thanos Fortnite skin, you'll have to compete in the Thanos Cup, which takes place June 21. In that cup, you'll have to complete as a duo in 10 matches played over three hours to earn points. The best teams in each region will receive the skin, and players that earn eight total points will receive the "Thanos Watches" spray.
Entering the Thanos Cup requires you have an Epic Account at level 30 and two-factor authentication enabled.
If you're not looking to compete in pursuit of the skin, you'll need to log into the Fortnite Item Shop when the skin drops on June 26. However you get the Thanos skin, he'll come accompanied by an Infinity Gauntlet back bling that includes all six Infinity Stones.