Fortnite
How to Get the Bugha Skin in Fortnite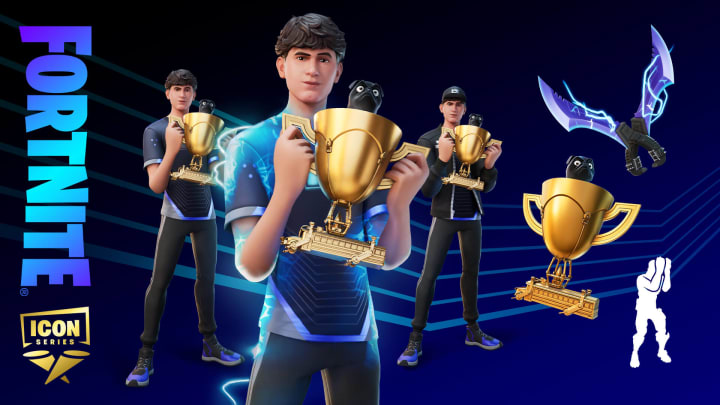 Fortnite players are eager to get their hands on Bugha's Icon Series skin after its release. / Epic Games, Bugha
Fortnite players are eager to get their hands on Bugha's Icon Series skin after its release.
Kyle "Bugha" Giersdorf has officially joined the Epic Games Icon Series cosmetic line-up alongside other famous players such as Lachlan, Ninja, Loserfruit, and TheGrefg.
The announcement was made on Monday, July 19, through the official Fortnite Twitter account and was debuted by Bugha, himself, via Twitch stream. The cosmetic bundle dropped the next day and contained not only the outfit and two style variants but other items, as well.
Here's how to get the Bugha skin in Fortnite.
How to Get the Bugha Skin in Fortnite
The Bugha Icon Series bundle dropped on Tuesday, July 20, in the Item Shop. It contained four items:
"Bugha Outfit" (plus two style variants)
"Zoey Trophy" Back Bling
"Bring It Around" Emote
"Bugha Blades" Harvesting Tools
To unlock the skin and bundle, players should use the code "BUGHA" in the store. The price should come out to 1,500 V-Bucks—the same as other bundles within the Icon Series. Once purchased, everything will be added to the player's locker automatically and can be selected from there.
Bugha's "Bring It Around" celebration dance comes directly from the dance he performed on-stage after winning the 2019 Fortnite World Cup at only 16 years old. His back bling features his beloved black pug, Zoey, who pops out from behind the 2019 World Cup trophy's rim from time to time during the match.
Other notable Icon Series members include popular music artist, Marshmello, and legendary basketball player, Lebron James.
More information about the skin and its bundle can be found on Epic's Fortnite news page.