How to Get the 'Crimson Twilight' Set in Elder Scrolls Online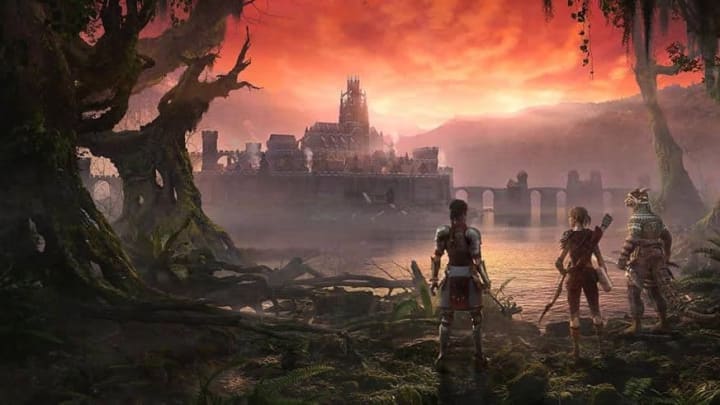 Elder Scrolls Online (ESO)'s Crimson Twilight set has been making waves recently due to its survival potential. / ZeniMax Online Studios, Bethesda Softworks
Elder Scrolls Online (ESO)'s Crimson Twilight set has been making waves recently due to its survival potential.
The Crimson Twilight was originally introduced as part of the Stonethorn DLC, a dungeon developed to further the 2020 expansion chapter, Greymoor. It took players on a journey through Castle Thorn, into the Stone Garden, and directly into an intense conflict with the lady of the fortress, Lady Belain.
ESO Crimson Twilight Guide
The Crimson Twilight set is a heavy armor-exclusive addition that focuses on health and healing. To receive its full effects, players will need to equip at least five pieces. Below, we've broken down what bonuses become available with the addition of each piece:
Base requirement with no effect
Adds 1206 Maximum Health
Adds 4% Healing Taken
Adds 1206 Maximum Health
After taking damage you surround yourself in an 8-meter mist of blood. After 2 seconds, the mist is violently siphoned into your body, dealing 1946 Bleed Damage to nearby enemies and healing you for 100% of the damage done. This effect can occur once every 8 seconds and scales off your Maximum Health.
Players can pick up heavy armor, weapons, and jewelry of this type while adventuring through the Stonethorn dungeon as part of the Stonethorn DLC. Be sure to stop for chests along the way!
One of the best companion sets for Crimson Twilight is Leeching Plate from the Imperial City DLC. Players report these two paired together can provide that extra boost to stay alive during solo gaming sessions.