How to Get the Valorant 'Give Back' Skin Bundle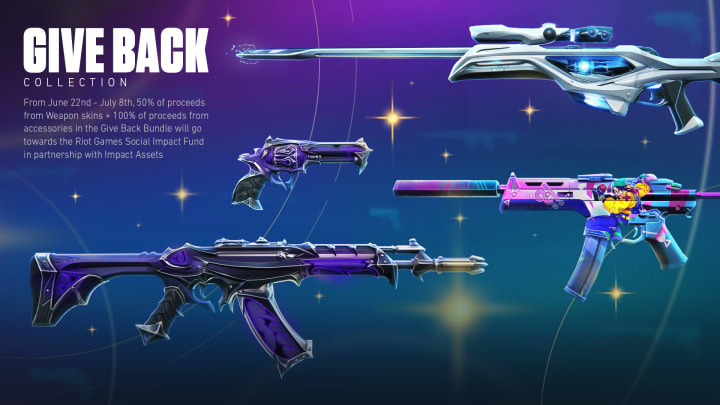 Riot Games is releasing a new player-voted cosmetic charity-themed bundle for Valorant in late June. / Riot Games
Riot Games is releasing a new player-voted cosmetic charity-themed bundle for Valorant in late June.
The "Give Back" skin bundle contains a handful of cosmetics including popular weapon skins, weapon accessories, and more. Players had the opportunity to vote on which weapons and skins would be available in the pack—likely to help drive donations. After all, who wouldn't want to rock some great-looking gear while benefiting a good cause?
"Players have voted for their favorite skins to be included in this special charity-themed bundle," Riot says of the pack, noting that the proceeds from the purchase will go to the Riot Social Impact Fund—specifically, 50% from the weapons and 100% from the accessories.
Here's how to get the bundle.
Valorant "Give Back" Skin Bundle
Players can pick up the bundle on the in-game shop for 6,382 VP when it drops on June 22. It contains four weapon skins and three additional accessories, which are:
Reaver Sheriff

VALORANT GO! Vol. 1 Spectre

Reaver Vandal

Ion Operator

Give Back Gun Buddy

Give Back Card

Give Back Spray

According to Preeti Khanolkar, Senior Producer at Riot, the bundle originated as an answer to fans who wanted to donate to charitable causes through their in-game purchases.
"We liked that idea a lot and wanted players to participate as part of our One Year launch anniversary," she said, "So, we thought the best way to do that was having players vote on which skins they'd want to include in the Give Back Bundle!"
The accessories—the gun buddy, card, and spray—were specifically designed for this bundle, as well. Their design, Khanolkar explained, comes from a desire to "create a piece of content that would feel special and connected" to the bundle.
"The image of two agents, Sage and Astra, clasping their hands together in solidarity really stuck with us and we hope you'll all think it's beautiful and inspiring too." She said.