Call of Duty
How to Kill Krampus in Vanguard and Warzone Pacific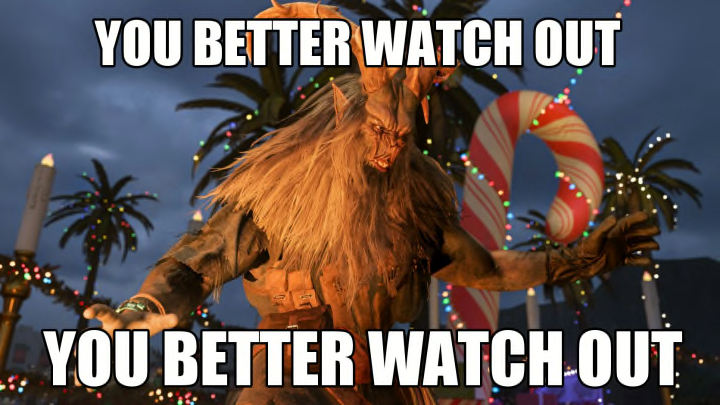 Krampus is causing quite a ruckus in Warzone lobbies, making him a prime target of Warzone players during the Festive Fervor event. / Activision
Krampus is causing quite a ruckus in Warzone lobbies, making him a prime target of Warzone players during the Festive Fervor event.
Most people both inside of Call of Duty (COD) and out know of Krampus—the half-goat, half-monster creature from European folklore said to carry away children who misbehave around the holidays. In COD: Warzone, Krampus has taken up a new mantle: hunting down players in Warzone Pacific and Vanguard.
For those who still want to play the game their way without losing their streak to a festive goat-man-demon—don't worry. We've listed a few strategies to take him down when you can't seem to get him off your back.
How to Kill Krampus in Vanguard and Warzone Pacific
It's worth noting that some players may be just fine with watching the murderous myth scare the holiday cheer out of others from a distance so they can get some free loot after the fray. While Krampus may be easier to take down with a helping hand—you certainly shouldn't expect it. He didn't obtain such a fearsome reputation on looks, alone.
Krampus has 365 HP which makes him among the most—if not the most—tank-y characters roaming the COD wilds. We're not exaggerating when we say this dude eats bullets for all three meals and a midnight snack. Some report that his health regenerates between fights, kills, or other downtimes, meaning players will need to be consistent with their damage. This isn't a hunt you can finish in waves.
This means the best weapons for the job are the heavy artillery with high-volume magazines. LMGs tend to be the best bet, but if the beast is closing in it may not be a bad idea to switch to a mid or close-range weapon. He also will stumble and stagger upon being hit, impeding his charge, so mag-dumping while trying to put some distance between you and him will be your best bet.
Other outlets have reported that the top weapons include:
As implied with the use of long-range weapons: do not let this guy corner you into a small space! Krampus will absolutely try to pin you down which is much easier when you're more focused on the demon in front of you than where you're backing up to. Try to keep track of where you are in the field and, if you find yourself running out of space, take a break from firing and make a run for a new area to fight.
Not all love the Christmas Karma Krampus is dishing out, of course. Some are demanding he be nerfed while others appear to be enjoying the change of pace. An "invisible Krampus" bug has also appeared in Warzone making the entire encounter a whole new level of terrifying.
If you do manage to complete the massive feat of killing Krampus, the rewards are equally large. On death, he drops 2,000 XP, $10,000, and a full box of munitions so you aren't running around the map empty-handed. Whether that's enough to not just sprint for your life upon hearing his distinct roar, however, is up to each player.