Top Games
How to Make Pickled Herring in Disney Dreamlight Valley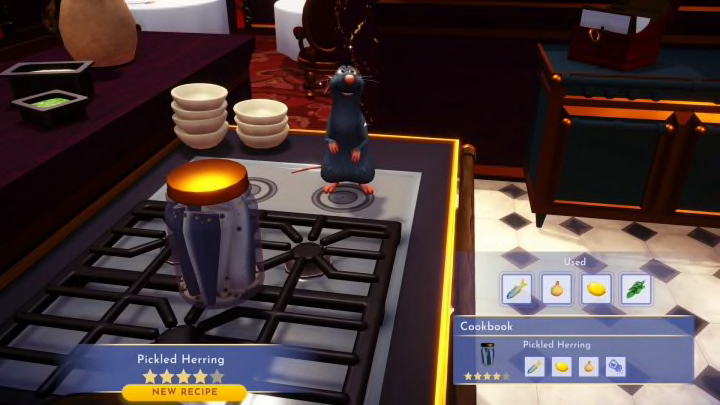 Gameloft, screenshot by DBTLAP
Trying to make Pickled Herring in Disney Dreamlight Valley? Here's what you need to know.
Not to be confused with Arendellian Pickled Herring, Pickled Herring is a similar, but simpler recipe to make. It is a four-star recipe, and therefore will require four unique ingredients. While Pickled Herring can be made relatively early in the game, it will require some Dreamlight to unlock the biomes where its ingredients can be found.
How to Make Pickled Herring in Disney Dreamlight Valley
First, you'll need to gain access to the Forest of Valor and Dazzle Beach, which will cost a total of 5,000 Dreamlight to unlock. Once done, you'll be able to search for the following ingredients:
Lemon: Found on trees in the Forest of Valor and the Glade of Trust, cannot be farmed
Onion: Can be purchased from Goofy's stall in the Forest of Valor for 255 Star Coins or farmed using Onion Seeds (which cost 50 Star Coins)
Herb: Any herb found across all biomes can be used in this recipe. One of the easiest to find is Oregano, which is found in the Plaza
Herring: Can be found in the Glade of Trust or Dazzle Beach in any bodies of water with white ripples.
Once you have all of the ingredients, combine them at a cooking station to make Pickled Herring. Looking for more dishes to make? Check out our recipes for Fish Creole and Ratatouille.