How to Open the Nornir Rune Chest in The Forge: God of War Ragnarök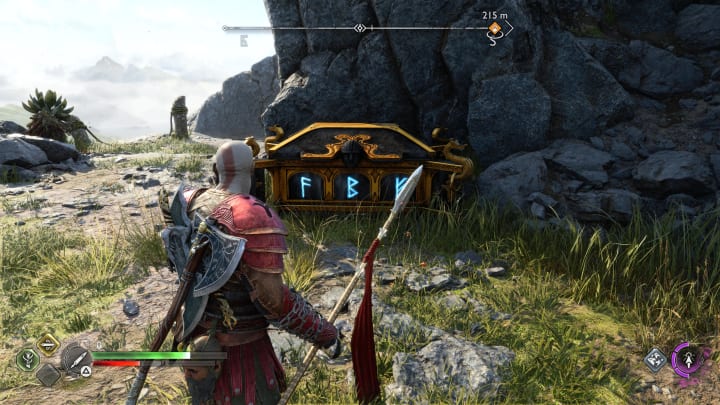 Nornir Chest at The Forge, with the Draupnir Spear. / Santa Monica Studio | Screenshot: Alexandra Hobbs
Scattered around the many realms in God of War Ragnarök are Nornir Chests. Here's how to open up the rune chest in The Forge.
Nornir Chests are found all over the realms, containing valuable materials such as Idunn Apples or Horns of Blood Mead. These items will either increase Kratos' health or his Maximum Rage — both important gauges to max out for the many fights ahead.
Players will come across the Nornir Chest in The Forge pretty early on in the game's main story, but you won't have the necessary equipment to unlock it. It's not until much later in the game, when Kratos receives a brand new weapon, that players will be able to unlock it.
How to Open the Nornir Rune Chest in The Forge: God of War Ragnarök
The Draupnir Spear is the necessary weapon for this chest, and the secret to hitting all of the runes.
The runes bear a slight resemblance to the letters 'F', 'B' and 'Y'. Players will need to throw a spear at each of the rune markers, then detonate them all at once.
Rune 'F' seen to the left. / Santa Monica Studio | Screenshot: Alexandra Hobbs
Rune 'F' — Head towards the train, but take the path up towards the empty platform just past the carts that are falling off the walkway. Turn around and you'll see the rune on the rock.
Santa Monica Studio | Screenshot: Alexandra Hobbs
Rune 'B' — Opposite the chest.
Rune 'Y' — To the left of the chest.
Return to the chest and open it to receive an Idunn Apple.
Be sure to check out our list of Nornir Chest locations and solutions for more guides.