How to Open the Nornir Rune Chest in The Veiled Passage: God of War Ragnarök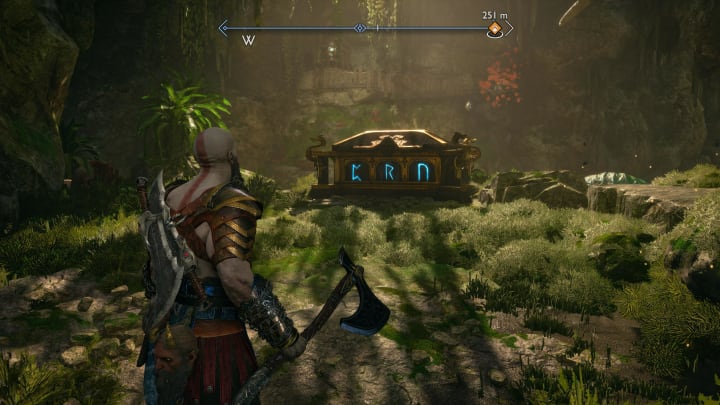 Nornir Chest in The Veiled Passage / Santa Monica Studio | Screenshot: Alexandra Hobbs
Scattered around the many realms in God of War Ragnarök are Nornir Chests. Here's how to open up the rune chest in The Veiled Passage.
Nornir Chests are found all over the realms, containing valuable materials such as Idunn Apples or Horns of Blood Mead. These items will either increase Kratos' health or his Maximum Rage — both important gauges to max out for the many fights ahead.
But because these items are so valuable, cracking open the Nornir Chests requires more work. To unlock them, you'll need to find and break three runes, or Seals, located around the area near the chest. Here's how to find the runes and open the Nornir Rune Chest in The Veiled Passage.
How to Open the Nornir Rune Chest in The Veiled Passage
Santa Monica Studio | Screenshot: Alexandra Hobbs
To open this Nornir Chest, you'll need to diverge from the usual tactics. Each of the three runes can be seen across the water, hanging. You'll need to hit all three runes at once.
To do so, chain Freya's Sigil Arrows to connect all three runes — about three fully sized Sigils should be enough to span the distance. Toss a bomb from the pot behind to set off a chain reaction. The explosion should hit all three runes.
Open the chest to receive a Horn of Blood Mead.
Be sure to check out our list of Nornir Chest locations and solutions for more guides.