Top Games
How to Pre-Order Madden NFL 22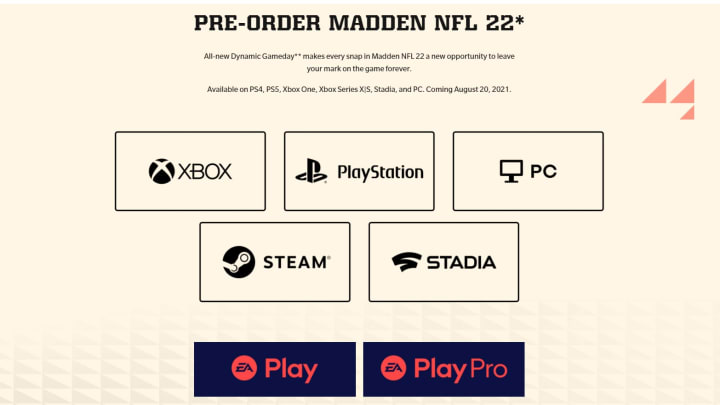 We've broken down exactly how to pre-order Madden NFL 22. / EA Sports
We've broken down exactly how to pre-order Madden NFL 22.
EA Sports revealed Madden 22 via their official social media channels at 10 a.m. ET on Thursday, June 17. With NFL legend Tom Brady and fellow GOAT Patrick Mahomes gracing its front cover, fans can't wait to get their hands on a copy of the game. Fortunately, EA has already made the game available for pre-orders.
Here's how to reserve your copy of Madden NFL 22.
How to Pre-Order Madden NFL 22
Potential players can pre-order their desired version of Madden 22 by visiting the official pre-order webpage through EA.com. This specific URL can also be found at the bottom of Gridiron's Notes for this installment.
Once selected, players will be brought to a screen that will help guide them through the process. We've outlined the basic steps below:
Select the desired platform—Xbox, PlayStation, PC, Steam, or Stadia.
On the next page, use the red bar at the top to select the desired edition—Dynasty, MVP, Standard or joining up to receive the game through EA Play.
Locate the black box to the right of the embedded Official Reveal Trailer and select the "Pre-Order Now" button.
Complete the purchase through the chosen retailer's platform.
Before checking out, we encourage players to double check they've selected the right platform and edition for them. Console generations don't make a difference as the game will be credited to the player's Xbox Live or PSN account. Obviously, special editions will cost quite a bit more than standard.
Madden NFL 22 releases globally on Aug. 20. Special edition pre-order customers will get Early Access on Aug. 17. EA Play subscribers receive Early Access on Aug. 12.