Top Games
How to Pre-Order the Halo Infinite Xbox Limited Edition Console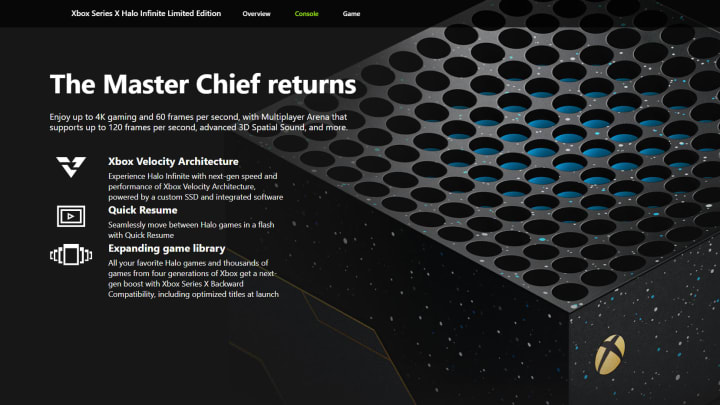 Microsoft unveiled a brand new Halo-inspired Xbox Series X console in celebration of the franchise's 20 year anniversary. / Microsoft
Microsoft unveiled a brand new Halo-inspired Xbox Series X console in celebration of the franchise's 20 year anniversary.
For the past two decades, Halo fans have held on strong to their Spartan pride. Now, 343 Industries is ready to deliver with its campaign and multiplayer set to launch on Dec. 8, 2021. This alone is a cause for celebration, and Microsoft has just the gift: a limited edition console run featuring shimmering dark metallic paneling with iridium gold lining.
Here's what you need to know about the Halo Infinite limited edition console.
How to Pre-Order the Halo Infinite Xbox Limited Edition Console
Players can pre-order the limited edition Halo Infinite-themed Xbox Series X console through the Xbox website right now. It comes in a full bundle with a matching controller—though, it isn't the green-plated Master Chief armor-inspired one—a high-speed HDI cable, and a copy of Halo Infinite. Features of the bundle include:
Xbox Velocity Architecture
Quick Resume feature
Expanding games library
Textured grips and trigger buttons
Custom share button for all your impressive achievements
The full bundle costs $549.99. However, there is no shipping date just yet. We assume it will be out in time for the holiday release date or, at least, within a few weeks of it.
Visually, the console is the same model as its traditional Series X counterpart, but instead of a single matte black casing, it features charcoal black and glittering steel gray panels interlocked and lined with iridescent gold accents. The very top of the console is dark and dotted with white and light blue to invoke the imagery of endless space and stars. Its matching controller follows suit, of course—with both having matching gold Xbox logos emblazoned on the top and center, respectively.