Fortnite
How to Refund Skins and Cosmetics in Fortnite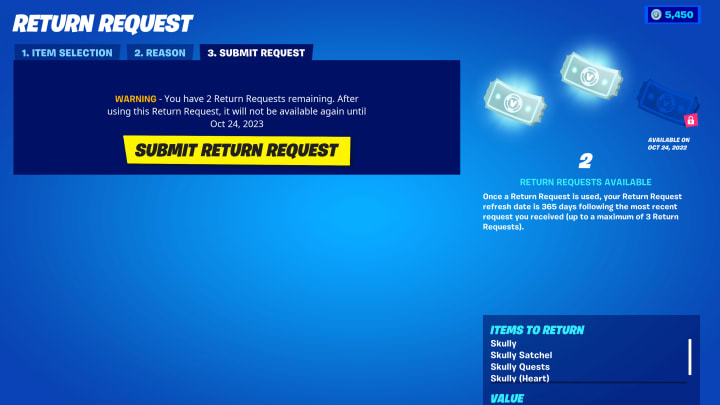 Image provided by Epic Games.
Fortnite has recently changed it's refund policy away from the "lifetime" model towards an annual system. Players are excited to hear this change and are more willing to refund items. Here's how to refund items and skins in Fortnite.
In the past, every account was given three lifetime refunds. Once those three refunds were used, that's it. However, in a surprise to many players, Epic Games has revised the refund system in Fortnite's v18.20 update to now grant players one refund per 365 days, with a maximum of three per account. 
Players must understand that refunds do not apply to all items. Only items purchased within 30 days are eligible to be refunded, excluding Battle Passes, Llamas, or Battle Pass levels. 
How to Refund Skins and Cosmetics in Fortnite
To request a refund on an eligible item, players must go to the Settings menu and switch to the "Account and Privacy" tab. There they will find and select the "Return Requests" option, taking them to a screen showing them all eligible items for refunding, as well as how many Refund Tickets are left in the player's account. Be sure to read the notice below those tickets.
Pick the item that is to be refunded, and the game will present three reasons why the player wants to refund the item. Players must pick a reason, then confirm one final time that they want to refund the item. The item will be refunded, and the ticket will be consumed.
Every refund will reimburse the player with V-Bucks, and they will be refunded with the exact same amount they spent on the item. A single ticket is required for a single item.