How to Rejoin Fortnite Crew: What to Do When You Cancel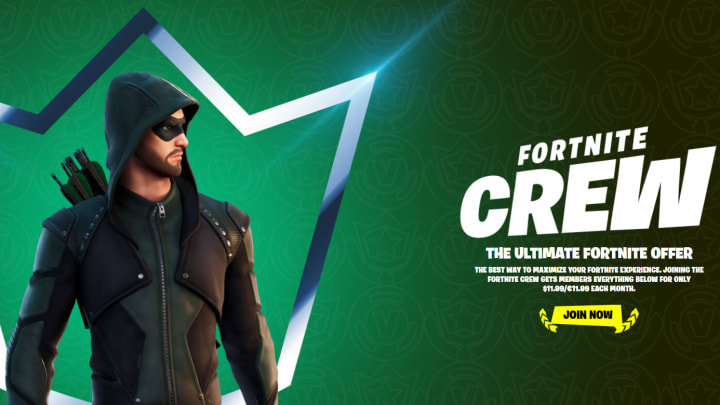 Players searching for how to rejoin the Fortnite Crew are in luck as Epic Games programmed a button for this specific purpose. / Epic Games
Players searching for how to rejoin the Fortnite Crew are in luck as Epic Games programmed a button for this specific purpose.
There are a plethora of reasons why someone would cancel their subscription. From repeated issues with payment to inactivity, users likely cancel all kinds of subscriptions every day in the hundreds. Unfortunately, this occasionally comes with a bit of guilt or fear of missing out (FOMO). For those looking to rejoin the Fortnite Crew after some time away, here's how to do it.
How to Rejoin Fortnite Crew
Players can rejoin the Fortnite Crew by locating the "Rejoin" button in their game or by navigating to the tab on the game's official website and completing the steps from there.
For some eager returning members, however, this path appears to be bugged. After intentional cancelation or unintentional payment mistakes, players have been reporting several issues upon selecting the button. These include not seeing instructions, seeing vague or wrong instructions, or not having their subscription properly pick up after the process.
Some on the Fortnite subreddit board have reported success by going through the original platform they subscribed on. Unfortunately, this isn't a surefire solution and does not work for everyone. Others noted that it took a few hours for their subscription to appear but, again, it hasn't been the universal case.
Epic addressed the issue in a tweet published on Jan. 1 from Fortnite's status and support profile. They acknowledged it's existence and noted they will be delaying subscriber's monthly allowance until they can find a fix. So far, there have been no updates from the account regarding the issue.
Epic Games originally implemented their optional subscription-based service called the "Fortnite Crew" on Dec. 2, 2020. In its announcement post, published on Nov. 24, the company detailed the unique rewards players could get for subscribing. Those willing to spend $11.99 a month get a Battle Pass for the entire upcoming or current season, a monthly "Crew Pack" cosmetic bundle featuring a variety of outfits, and a monthly allowance of 1,000 V-Bucks.