How to Sign Up for Project Q Testing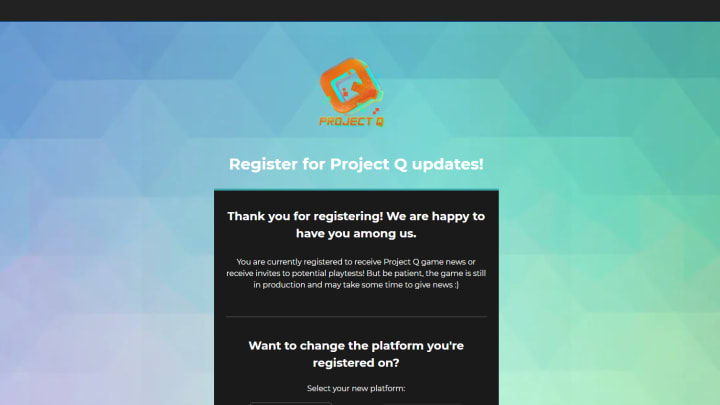 We've compiled a guide to how to sign up for Project Q testing. / Ubisoft
We've compiled a guide to how to sign up for Project Q testing.
Ubisoft unveiled its next team-based online "battle arena" title, Project Q, on Saturday, April 23. In a tweet published to its verified Twitter account, the company explained that the game is currently in "early development" and that potential players can signup to be part of its playtests going forward.
Here's how to do just that.
How to Sign Up for Project Q Testing
At the time of writing, the only platforms eligible for Project Q playtests are the PlayStation 4/5, Xbox One Series X|S, and PC via Ubisoft Connect. To register, follow these steps:
Visit Ubisoft's Project Q playtest registration portal.
Select your platform from the ones available on the webpage.
Click "REGISTER."
Enter the appropriate log-in credentials.
If done correctly, players should be brought to a screen thanking them for signing up.
"You are currently registered to receive Project Q game news or receive invites to potential playtests! But be patient, the game is still in production and may take some time to give news :)" The page reads.
They'll also have the opportunity to change the platform they've registered on.
Players should have a verified e-mail attached to their account, otherwise they will be asked to do so before proceeding to the next stage.
DBLTAP cannot confirm when playtests will be taking place or if/when any other platforms may be added to the list of those available. Interested parties are encouraged to check back on official Ubisoft channels or through their trusted news sources for updates.