How to Sign Up to the Fortnite Lantern Trials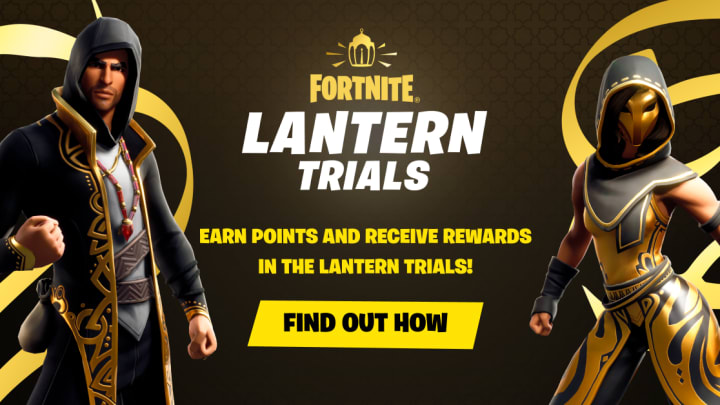 Image courtesy of Epic Games
The Fortnite Lantern Trials are underway. Here's how you can sign up and claim some free rewards.
Epic Games have launched a new set of challenges for Fortnite players to complete. Running from April 20 to April 24, the Lantern Trials gives players a Daily Challenge and a chance to earn an exclusive Emoticon. Additionally, players will also have a stretch goal to complete each day. Completing just two of them will net players the Leadlight Wrap and Dream Lantern Back Bling.
The Lantern Trials kicked off yesterday, so those signing up today will have missed the first day's Emoticon. But don't worry. On the final day, all players will be given the chance to go back and earn any Emoticon that they've missed.
So, do you sign up to take part?
Fortnite Lantern Trials: How to Register
Signing up for the Lantern Trials is pretty simple. Players will need to:
Visit the Lantern Trials website and sign up with your Epic Games account. 
From April 20 to April 24, a new Daily Challenge will be available to complete on the website. The first Challenge will be available at 4 a.m. ET on April 20, and subsequent challenges will be available at 12:01 a.m. ET on April 21, 22, 23 and 24. If you did not complete any of the first four Daily Challenges, you can earn their associated in-game Emoticons by completing the fifth Daily Challenge on April 24. 
You will also be presented with a stretch goal every day. Accomplishing one of the stretch goals will reward you the Leadlight Wrap, and accomplishing two will reward you the Dream Lantern Back Bling. You can only unlock one stretch goal per day.
The Challenges can be accomplished in Fortnite Battle Royale and Zero Build playlists (whether Solo, Duos, Trios or Squads). 
Fortnite Lantern Trials: All Rewards Detailed
Leadlight Wrap and Dream Lantern Back Bling. / Image courtesy of Epic Games
Here's everything you can earn during the Lantern Trials:
Daily Challenge 1: Brawlin' Bunny Emoticon
Daily Challenge 2: Rook's Eyeroll Emoticon
Daily Challenge 3: Sweaty Jonesy Emoticon
Daily Challenge 4: Shrug Ranger Emoticon
Daily Challenge 5: Previous days Emoticons
Accomplish 1 Stretch Goal: Leadlight Wrap
Accomplish 2 Stretch Goals: Dream Lantern Back Bling