Top Games
How to Solve the Fishing Shrine Puzzle in Kena: Bridge of Spirits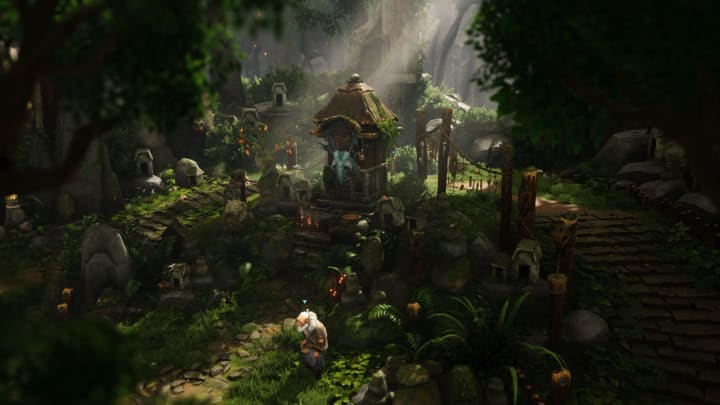 Are you having trouble solving the puzzle at the fishing shrine in Kena: Bridge of Spirits? We have the answer below. / Ember Lab
Are you having trouble solving the puzzle at the fishing shrine in Kena: Bridge of Spirits? We have the answer below.
Kena: Bridge of Spirits centers its narrative on Kena, a young woman who is tasked with helping to heal injured, tethered souls and allow them to move on from this world—and thus lift corruption from the forest. Unsurprisingly, those who have experienced a severe bout of trauma likely have a worse go of the situation due to all the unprocessed emotion they still need to sort through. In-game, this manifested as a series of puzzles to help Taru.
Kena: Bridge of Spirits Fishing Shrine Puzzle Solution
In order to unlock the door to help Taru, there are four shrines players need to visit and interact with. While most of them are some form of combat or platform course, only one is a straightforward puzzle: the fishing shrine.
When it comes down to it, the solution for this puzzle is actually pretty easy—so easy that it players may find themselves overthinking the whole thing.
Approach the shrine and examine it closely. No doubt, players will notice it spots four unlit torches with an assortment of candles underneath each one. Obviously, players will need to light the torches to activate the shrine—but the order of the torches must be correct. The candles near the bottom of each one are the key to solving the puzzle.
Count the candles. Each torch should have a different number from one to four. This is the order in which players need to light the torches—starting from one.
That's it! It's that simple.