How to Take Your Shirt Off in NBA 2K24: Next Gen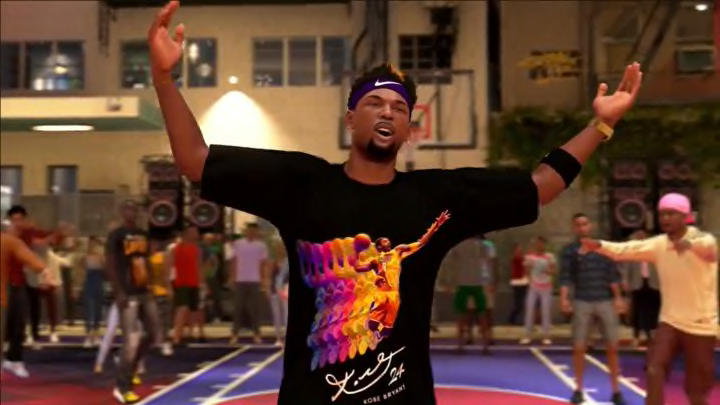 Here's how to take your shirt off in NBA 2K24 Next Gen. / Visual Concepts
Taking your shirt off in NBA 2K24 Next Gen is much easier than last year.
NBA 2K24 MyCAREER contains some big changes in 2K Sports' new title. Players will no longer go to college and experience an NBA draft; instead, they get to choose their NBA team and begin the first game as a starter. The mode lacks the captivating story it had in NBA 2K23, but there are still plenty of quests, rewards, and Rep to earn as fans explore The City.
One of the new Rep rewards allows players to take off their shirt in NBA 2K24, but how do you unlock it?
How to Take Your Shirt Off in NBA 2K24: Next Gen
To take your shirt off in NBA 2K24 Next Gen, you must work your way to Rookie 3 in the revamped Rep system only on PlayStation 5 and Xbox Series X|S. Along with taking off your shirt, the Rookie 3 Rep rewards offer access to extra badge-improving drills after completing a game in The Rec or The City.
To get to Rookie 3, you first must join an Affiliation. In NBA 2K24, players only have two options: RISE or ELITE. Choose your Affiliation to unlock two objectives unique to either RISE or ELITE. Once you complete the objectives, you will officially become a member of your chosen Affiliation and unlock the first tier of Rep rewards.
The more quests you complete and the more games you play in Park, the quicker you will be able to climb the Rep rewards ladder and take off your shirt.
Does My Rep Reset in NBA 2K24 Season 2?
No, your Rep will not reset in NBA 2K24 Season 2. Your rewards progression will remain intact even with a new season. The only way your Rep will reset is if you change your Affiliation.
Since RISE and ELITE have different Rep rewards, switching from one to the next will eliminate your current progress and take you back to Rookie 1.
For more on NBA 2K24, feel free to check out: