How to Unlock Agents Fast in Valorant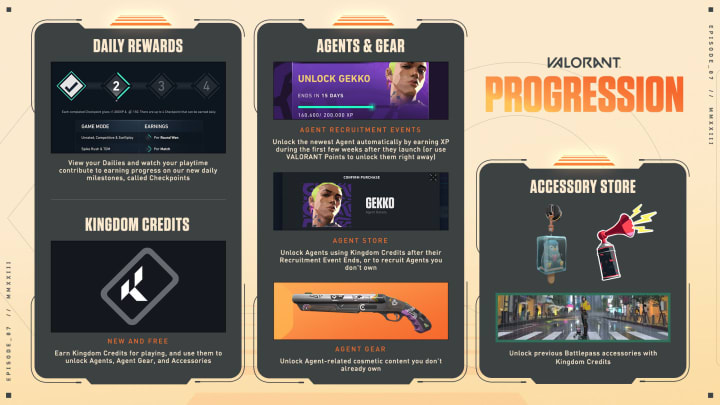 Check out the fastest ways to unlock Agents in Valorant Episode 7 Act 1. / Riot Games
Thanks to a new progression system, there are now a few easy, fast ways to unlock Agents in Valorant.
Valorant Episode 7 Act 1 finally gave fans a way to obtain previous Battle Pass accessories through a new progression system and in-game currency. Kingdom Credits, awarded to players as they grind all Valorant modes, can now be used to unlock old cosmetics, Agent Gear, and most importantly, Agents.
The update coincides with the release of Deadlock, a new Sentinel perfect for holding down sites on both offense and defense. Her abilities can slow down and trap enemies, giving her teammates key information and even some free kills.
Here's a breakdown of the fastest way to unlock Deadlock and any other Agents in Valorant.
How to Unlock Agents Fast in Valorant
To unlock Agents fast in Valorant, players must collect Kingdom Credits and XP. In Episode 7 Act 1, players can earn both by completing Daily Missions that refresh every 24 hours. There will be four checkpoints per day, and each completed checkpoint will grant bonus XP.
Once you have collected 200,000 XP, you can unlock Deadlock (or any new Agent) during their Agent Recruitment Event. If you are a bit late to the updates, you can quickly unlock an Agent from the Agent Store with Kingdom Credits.
Despite the new system, though, the surefire way to unlock an Agent is still to purchase them with VP. It might seem the easiest method, but quickly earning XP and Kingdom Credits is a painless, free task for those who regularly play Valorant.