How to Unlock Donnie Darko Warzone Skin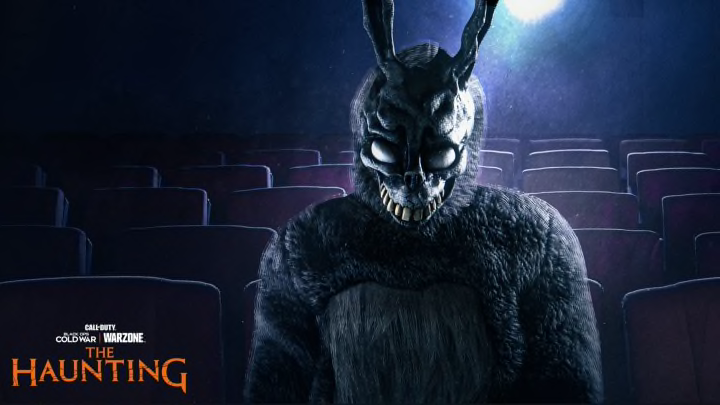 Photo courtesy of Activision
Season Six of Warzone is now live and with Halloween fast approaching, Warzone's The Haunting event has taken over the season. Introducing tons of Halloween-themed content from game modes to guns to skins, the event truly has it all.
One of the surprise unveilings of The Haunting was the "Frank the Rabbit" skin, the menacing black rabbit from the psychological thriller movie Donnie Darko. The skin looks incredible and combined with its derivation from a popular film, it is already in high demand. Here's how Warzone players can get the terrifying skin:
How to Unlock Donnie Darko Warzone Skin
The Frank the Rabbit skin is part of the larger Tracer Pack: Donnie Darko Limited-Time Bundle. Though, players won't find this in the shop just yet as the skin is set to release on Sunday, Oct. 24.
The bundle will include a handful of items all centered around the Donnie Darko movie with the headliner, of course, being the Frank the Rabbit skin. The bundle includes the "Sky is Falling" Finishing Move that brings about an unfortunate accident for players who are unaware of the player behind them.
A preview of the "Sky is Falling" finishing movie coming in the Donnie Darko Limited-Time Bundle / Photo courtesy of Activision
Also part of the bundle is a calling card, an emblem, a weapon charm, and a watch which are all of Epic rairty. The bundle wraps up with three Legendary Weapon Blueprints, one for an assault rifle, one for a SMG, and one for a sniper rifle. Activision has not given any details as to the specifics of each Blueprint, so players will have to wait until the bundle's release to see which guns get new variations.
No official price has been announced for the bundle yet, but going off of past bundles it is likely the cost will range around 2000 CoD points, or $20.