How to Unlock Geralt of Rivia in Fortnite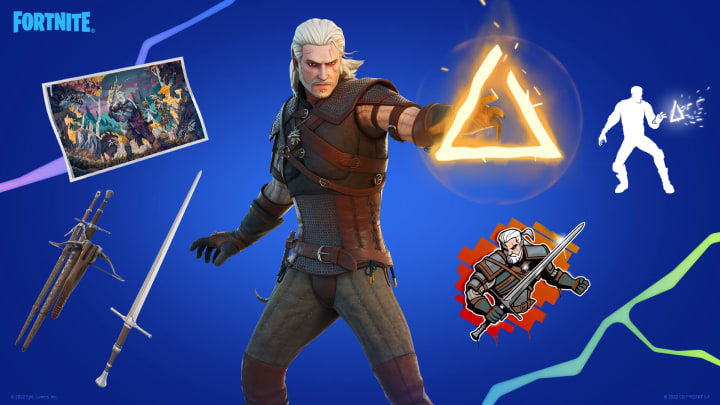 Geralt of Rivia Outfit is available now in Fortnite. / Epic Games
Fortnite's collaboration with The Witcher has finally rolled out, adding in Geralt of Rivia as an available skin. Here's how to unlock him.
From Fortnite Chapter 4's reveal, Epic Games has been teasing the arrival of Geralt of Rivia as part of the season's Battle Pass. But, as of Feb. 7, The Witcher collaboration is in full swing, with a variety of special quests added for players to complete.
Alongside Geralt's Outfit, players can complete Geralt's Battle Pass Quests to unlock a variety of themed cosmetics. In addition, the School of Llama challenges are available for all players to earn a number of additional cosmetics through the main playlists and creator-made playlists.
But, how can players unlock the main hero himself?
How to Unlock Geralt of Rivia in Fortnite Chapter 4
The Geralt of Rivia Outfit is available as part of the Chapter 4 Season 1 Battle Pass. While the Outfit is free for those who have already purchased the Premium Battle Pass, to actually unlock Geralt players need to complete Page 1 of the Geralt of Rivia Quests.
The Quests, which can be viewed from the Quest tab in-game, can be completed in any order during the Battle Royale playlists.
After completing all Quests on Page 1, players will unlock Page 2 of the Quests once they become available on Feb. 28. Page 2 will contain five rewards in total, including an alternative Style for the Geralt Outfit.