How to Unlock Rebirth in NBA 2K24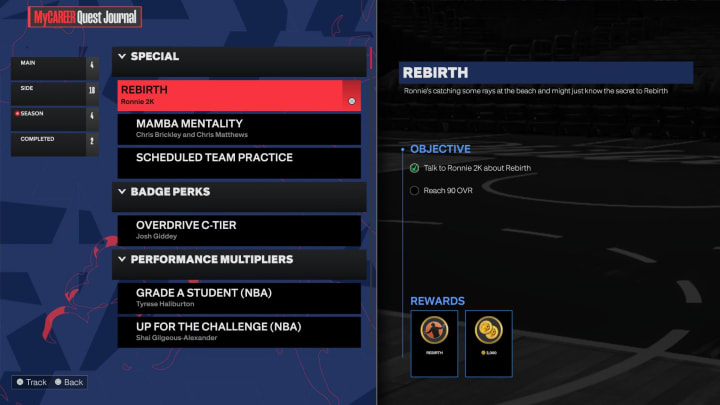 Here's how to unlock Rebirth in NBA 2K24. / Visual Concepts, screenshot by Amanda Langell
NBA 2K24 Season 1 is now live, and fans want to know how to unlock Rebirth.
NBA 2K24 MyCAREER mode is full of quests for players to complete to earn free rewards, extra VC, and excel in the NBA. All quests in NBA 2K24 are divided into three categories: Main, Side, and Season. Some are quick and easy, like talking to Jake from State Farm, and others, like Rebirth, require a bit more effort on the court.
Here's a breakdown of how to unlock Rebirth in NBA 2K24, and all the rewards that come with it.
How to Unlock Rebirth in NBA 2K24
To unlock Rebirth in NBA 2K24, players must first talk to Ronnie 2K about Rebirth. You will find Ronnie 2K on the beach, wearing a bathing suit and duck floaty. Interact with him to complete the first objective of the Rebirth quest.
Then, you must reach a 90 OVR. Getting your build to a 90 OVR will take some time and a lot of VC. If you are not interested in grinding other quests and objectives to receive free VC, you must purchase some from the in-game store.
NBA 2K24 VC Prices
Check out the following NBA 2K24 VC prices to get your player to a 90 OVR as quickly as possible:
5,000 VC: $1.99
15,000 VC: $4.99
35,000 VC: $9.99
75,000 VC: $19.99
200,000 VC: $49.99
450,000 VC: $99.99
700,000 VC: $149.99
To buy VC in NBA 2K24, go to the MyCAREER or MyTEAM menus. Then, hit "Get VC" to make your purchase.
All Rebirth Rewards in NBA 2K24
The biggest Rebirth reward in NBA 2K24 is Rebirth itself. Once your MyPLAYER reaches a 90 OVR, you will automatically unlock Rebirth and receive a huge advantage in the future: each new MyPLAYER can be boosted to a 90 OVR right away.
Completing the Rebirth Quest also offers the following rewards:
5% badge level progression boost.
All eligible badges start at Silver.
3,000 VC
Rebirth will be great to have if you ever need to build a new MyPLAYER to keep up with patches or new metas.