How to Watch Tammy and The T-Rex In High On Life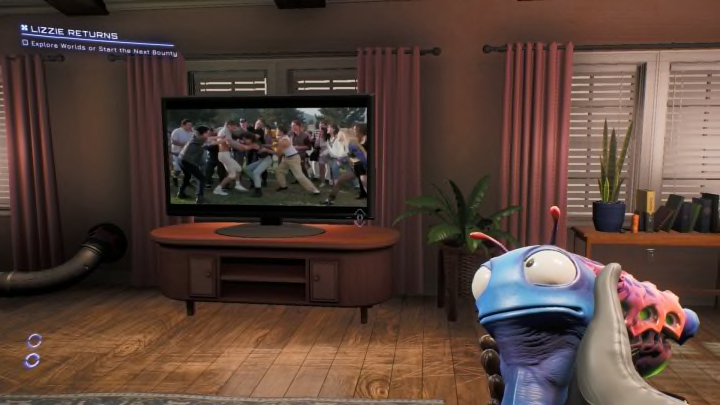 Squanch Games, screenshot by DBLTAP
High On Life, Squanch Games' newest release, is filled with distinct and unique opportunities throughout the story. One of these is the potential to watch full-length movies, such as Tammy and the T-Rex, in your home.
Similar to the likes of Rick and Morty, High On Life has its fair share of off-the-wall references and comedic interludes. While the game is not an open-world experience and is ultimately very linear, you'll be presented with several chances to see events not pertaining to the main storyline. For instance, at a certain point, you'll be given the option to stab Gene, which may earn you an achievement.
How to Watch Tammy and The T-Rex In High On Life
At any given point in the game, when you return home Gene may be watching a movie on the couch. There's a chance that the 1994 movie Tammy and the T-Rex may be playing, and if you want to watch, you are free to sit on the couch and spend as much time watching as you like. The entire movie will play, but unfortunately, you won't earn any bonuses or achievements for watching it all.
There are several full-length movies that may play on the television in High On Life--Tammy and the T-Rex has been among the first reported by players. Sitting down to watch these movies won't impact the story negatively, so if you want a restful break, take a seat and see what's playing.