IceManIsaac Reveals 'No Recoil' BAR Meta Loadout for Call of Duty: Warzone Season 3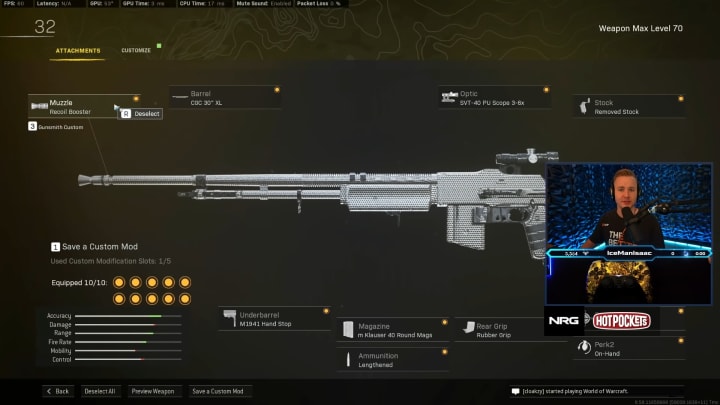 Call of Duty: Warzone expert IceManIsaac has put together a no stock BAR build that has notably low recoil in Season 3. / Activision, IceManIsaac
Call of Duty: Warzone expert IceManIsaac has put together a no stock BAR build that has notably low recoil in Season 3.
A lot has changed since the beginning of Call of Duty (COD): Warzone Season 3 ⁠— especially with this latest patch making waves following its launch on June 3. The meta appears to be shifting yet again which has led one player in particular to create a new "max damage, zero recoil" build for the BAR. In a new recent video uploaded to his YouTube channel on June 2, IceManIsaac showcased the weapon players are clearly missing in their artillery.
"The BAR...in my opinion, is one of the top two AR," he said, "I understand, in the past, it felt like there was too much recoil or maybe it was too slow with your aim down sights. With recent buffs and the build I have for you, here, the BAR is incredible."
IceManIsaac's "No Stock" BAR Loadout
IceManIsaac uses the following attachments for his BAR build:
Ammunition: Lengthened
Barrel: CGC 30′ XL
Magazine: 8mm Klauser 40-round mags
Muzzle: Recoil Booster
Optic: SVT-40 PU Scope 3-6x
Perk 1: Hardscope
Perk 2: On-Hand
Rear Grip: Rubber Grip
Stock: Removed Stock
Underbarrel: M1941 Hand Stop
The only peculiar item on this build is the Rubber Grip in place of the Polymer Grip. As he explains, the Rubber Grip actually helps with the visible shake of the screen when used. Vanguard guns tend to suffer with screen shake more than true recoil, so the Rubber Grip is the more appropriate choice.
Following a breakdown of the build, IceManIsaac went on to score over 32 kills in a single match with this weapon. Whether other players will have that level of luck remains to be seen, but they're certainly encouraged to give it a try.