In-Game Reference of Blizzard Employee Removed in Overwatch 2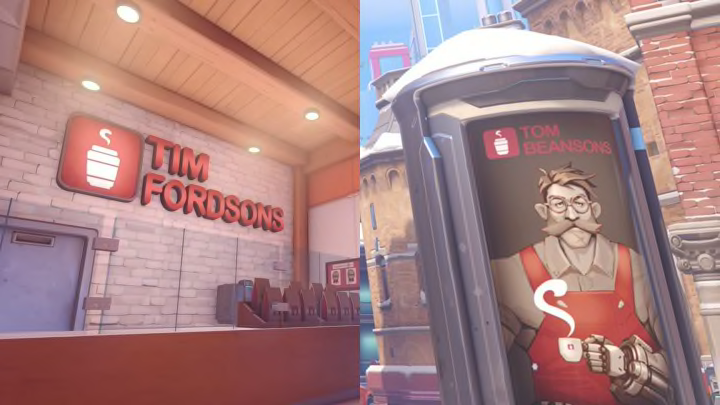 Image courtesy of ZenofyMedia, Blizzard
In Overwatch 2, Blizzard has changed the name of an in-game coffee shop to remove its reference to one of its developers.
The move was spotted by u/ZenofyMedia on Reddit, showcasing Blizzard's ongoing effort to no longer reference real employees in the multiplayer title.
On Thursday, Zenofy posted a thread to the r/Overwatch Subreddit titled, "Blizzard has removed 'Tim Fordsons' references and replaced the brand with 'Tom Beansons.'
The changes were made on New Queen Street, a Toronto, Canada-inspired map that is set to make its debut in Overwatch 2.
The original name for the Tim Horton's-esque coffee shop, "Tim Fordsons" reportedly was a reference to Timothy Ford, a Blizzard assistant technical director for Overwatch and Overwatch 2 (H/T Dexerto).
This move appears to be an extension of the policy Blizzard in August when they initially announced that the character McCree would be renamed, "Going forward, in-game characters will no longer be named after real employees and we will be more thoughtful and discerning about adding real-world references in future Overwatch content."
The beloved Overwatch DPS character had been named after a real Blizzard employee named Jesse McCree, who was a lead game designer there until being dismissed in August after the California Department of Fair Employment and Housing sued Activision Blizzard for fostering a"frat boy" workplace culture.
Although McCree wasn't explicitly named in the lawsuit, he appeared in an image of the BlizzCon 2013 "Cosby Suite" that surfaced online in a Kotaku report, which immediately prompted Overwatch players to start a petition to change the character's name.
The Overwatch 2 PVP closed beta is set to arrive for PC players on April 26, 2022. For those looking to try it out once it arrives, feel free to check out our guide on how to sign up for the Overwatch closed beta.