Is F1 22 on Xbox Game Pass?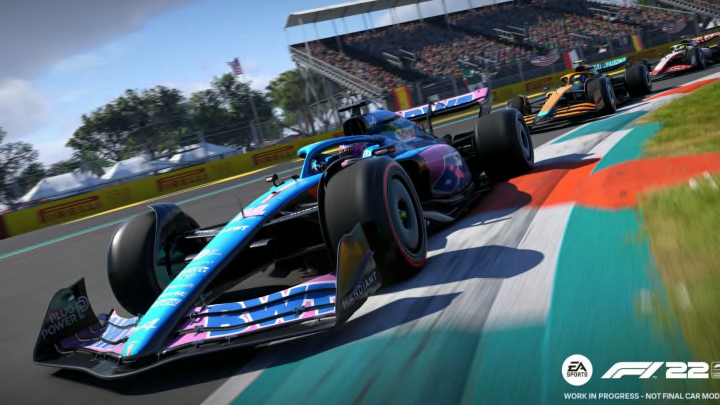 Courtesy of Electronic Arts
The release of F1 22 is hours away, and players are wondering how to access the new simulator game. Are you a Game Pass user trying to get access to F1 22? Here is what you need to know about the new game's release and if you will have access to it.
Is F1 22 on Game Pass?
Given that F1 22 is being released for the EA Play subscribers, F1 22 will not be available on Xbox Game Pass.
Members of the Xbox Game Pass users had a 10-hour trial of F1 22 that began on June 28 2022. Players can expect the full F1 22 game to be launched for Xbox Game Pass users by 2023, as previous EA games were added to the Xbox Game Pass months after release.
Xbox users will have to purchase F1 22 to play the video game or wait an unknown amount of time until the game is added to Xbox Game Pass.
Players can pre-order F1 22 Standard Edition for $69.99+ and receive benefits for purchasing before the release date. Here are the benefits you can receive if you decide to pre-order the game.
5,000 PitCoin
F1® Life Starter Pack : Make your space your own with items such as furniture including wall art, and a player t-shirt.
F1® 22 New Era Content: Car livery, Suit, Helmet, Cap, T-shirt (for F1® Life) inspired by the stunning Official Formula 1® 2022 New Era car.
F1 22 Release Date
F1 22 will release on July 1 2022 on the PlayStation 4/5, Xbox One/Series S|X, and PC via the EA App, Origin, Steam, and Epic Store.
Players can select one of two racing modes, Broadcast or Immersive, for a more relaxed or challenging experience. F1 22 also features PC VR support for the Oculus Rift and HTC Vive to place players behind the wheel.