Fortnite
Is Lady Gaga Coming to Fortnite?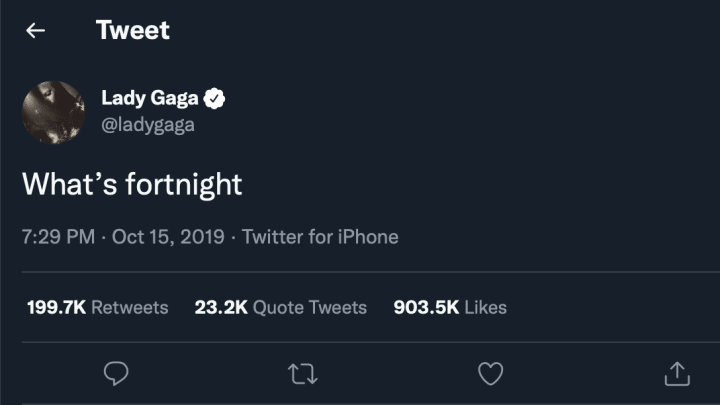 Lady Gaga's famous "What's fortnight" Tweet. / Image courtesy of Lady Gaga via Twitter
Rumors have begun circulating of the pop icon heading to Fortnite. Here's what we know.
Lady Gaga once famously asked, "What's fortnight." With the battle royale exploding into the gaming sphere throughout 2019, the tweet quickly garned likes, retweets, and plenty of confusion. Fast forward to 2022 and it seems that Bad Romance singer could soon be finding out for herself.
Epic Games has so far confirmed a number of popular artists heading to Fortnite's in-game radio stations in celebration of Rainbow Royale. In a blog post, Epic Games wrote, "Starting September 8, Rainbow Royale is taking over the airwaves! Cruise around and let the good vibes take over while you jam to sweet tunes by featured artists in the LGBTQIA+ community. "
The featured artists include:
Janelle Monáe
Lil Nas X
Todrick Hall
King Princess
Kim Petras
Lady Gaga
But according to popular Fortnite leaker @FNLeaksAndInfo on Twitter, that might not be all. Fortnite's upcoming update will reportedly add in a new collaborative emote named "Jug Band". Supposedly, when four players activate the emote together, the result is a sound very similar to that of Lady Gaga's Poker Face.
At the time of writing, Epic Games has yet to confirm if Lady Gaga will be featuring in any extra capacity than the in-game radio station. But, as we move closer to Fortnite's next update, perhaps we'll learn more.