Ismael Bennacer FIFA 23: How to Complete the Road to the Knockouts SBC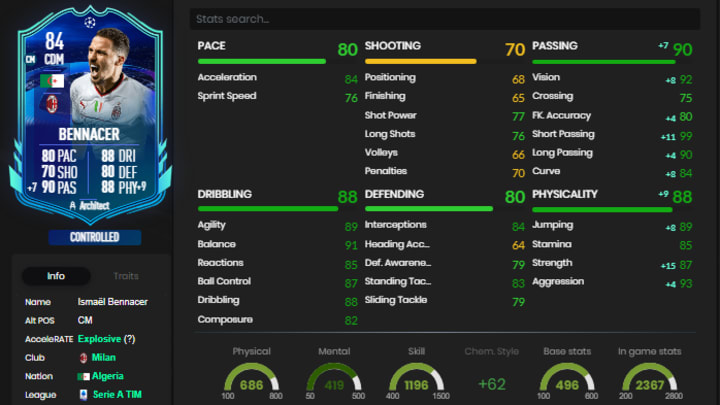 FUTBIN
Ismael Bennacer FIFA 23 Road to the Knockouts SBC is now live during the UEFA themed promotion.
Road to the Knockouts celebrates players at clubs competing in UEFA competitions. Those competitions include the Champions League, Europa League and Europa Conference League. Players receive upgraded items and then have the chance to upgrade twice depending on two stipulations. If the player's team wins two of their three remaining group stage games in their UEFA competition, they'll receive an upgrade. If the team also advances to the knockout stage, the player will receive another upgrade.
Ismael Bennacer FIFA 23: How to Complete the Road to the Knockouts SBC
Here's how to complete the FIFA 23 RTTK Bennacer SBC:
One Segment
Number of Players from Serie A: Min. 1
Players Rated 85 or Higher: Min. 1
Players Rated 86 or Higher: Min. 1
Squad Rating: 84
No Chemistry Requirement
Number of Players in the Squad: 11
Bennacer's base card is 84 overall. If AC Milan meet both requisites, Bennacer should upgrade to 87. Just one upgrade will boost Bennacer to 86. Milan is currently sat in third in its Champions League group with one win, draw and loss.
Milan has to play Chelsea, RB Salzburg and Dinamo Zagreb. It's not out of the realm of possibility that Milan win two of their three remaining games and qualify for the knockout round. Bennacer makes for a nice midfield upgrade to Serie A squads, but players have to be aware that the card is predicated on getting upgraded.