Japhet Tanganga FIFA 22: How to Complete the Future Stars Player Pick SBC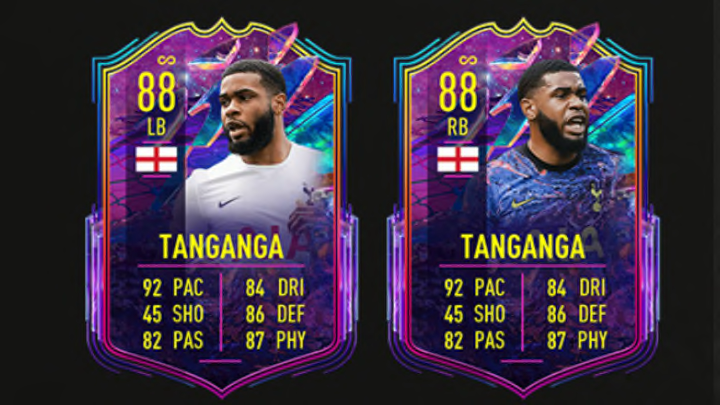 Japhet Tanganga's Future Stars Cards in FIFA 22 / Photo Courtesy of FUTBIN
Japhet Tanganga of Tottenham Hotspur is the newest addition to the FIFA 22 Future Stars promotion as an SBC. The newest Future Stars SBC features a player pick of Tanganga cards, one being a left-back and the other being a right-back.
Both cards have identical stats, but key attributes do differentiate them, making this an interesting Future Stars player pick. Here's how to complete the Japhet Tanganga Future Stars player pick SBC.
Japhet Tanganga FIFA 22: How to Complete the Future Stars Player Pick SBC
Tanganga's Future Stars SBC requires three squad building segments to complete, each with the following requirements:
Squad 1
Team Overall Rating: Min. 81
Team Chemistry: Min. 80
Players from Spurs: Min. 1
Pack Reward: Mixed Players Pack
Squad 2
Team Overall Rating: Min. 83
Team Chemistry: Min. 70
TOTW Players: Min. 1
Players from Premier League: Min. 1
Pack Reward: Premium Mixed Players Pack
Squad 3
Team Overall Rating: Min. 85
Team Chemistry: Min. 65
Future Stars Players: Min. 1
Pack Reward: Prime Mixed Players Pack
At around 130,000 coins, the choice of left-back or right-back Tanganga is a solid one. While their stats are identical, the LB card is left-footed, and has medium/high work rates, whereas the RB card is right-footed with high/high work rates.
Chelsea v Tottenham Hotspur - Premier League / Craig Mercer/MB Media/GettyImages
The cards each have the following stats:
Pace: 92
Shooting: 45
Passing: 82
Dribbling: 84
Defending: 86
Physical: 87
Both cards make solid fullbacks in the Premier League, with plenty of links to both Tottenham and English players. However, as good as each card is, the left-back card is our favorite. There is more competition for RBs in the Premier League than LBs, especially those that are English, and with medium/high work rates, the LB version of Tanganga would make an insane CB. His combination of pace and defending, with the work rates and ability to dribble and pass the ball for a CB, would make Tanganga a good partner to a ball-winning center-back partner, such as a Varane or the newest Future Stars Chalobah.
The Tanganga Future Stars SBC expires Feb. 19.