FIFA
Jesus Navas FIFA 22 Challenges: How to Complete the LaLiga TOTS Objective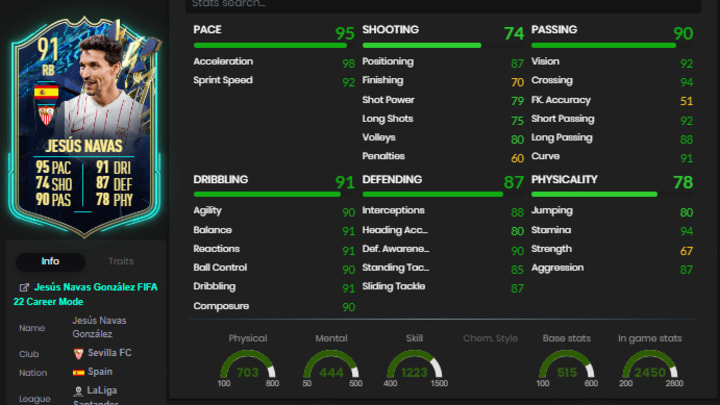 Photo by FUTBIN
Jesus Navas FIFA 22 challenges went live during LaLiga Team of the Season as one of two special items players can earn through objectives.
Jesus Navas has been a mainstay in LaLiga TOTS Squads over the past few years and a top option at right back for the league. He's arguably the best right back to use in the league each year especially when he receives special items. This new item is 91-rated and is well rounded, but pales in comparison to other RBs released so far like Trent Alexander-Arnold and Jeremie Frimpong. But, this item is free to earn.
Jesus Navas FIFA 22 Challenges: How to Complete the LaLiga TOTS Objective
Here's how to complete the TOTS Jesus Navas objective in FIFA 22:
Vast Volleys: Score six volleys in Squad Battles on min. Professional difficulty (or Rivals)
Four Star Assist: Assist four goals using players with min. four-star weak foot in Squad Battles on min. World Class difficulty (or Rivals)
Goals in LaLiga: Score using LaLiga players in five separate Squad Battles matches on min. Professional difficulty (or Rivals)
Spanish Scorers: Win eight matches in Squad Battles on min. Professional difficulty with 11 Spanish players in your starting squad (or Rivals)
All of these objectives will be easy to complete through Squad Battles. Players can also do them in Rivals, but that might end up taking longer considering it'll be against an actual player compared to the AI.