JGOD Shows How Broken Weapon Trade Stations are In-Game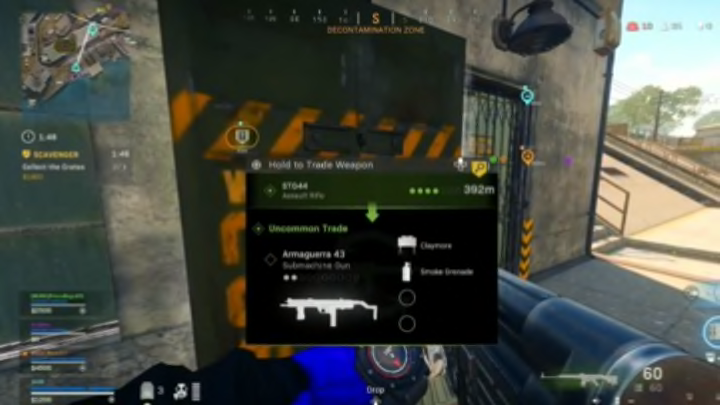 Photo courtesy of JGOD
The Season Two Reloaded patch arrived last week bringing some incredible changes to the Rebirth Island.
The infamous map has been rebuilt and reworked, creating new points of interest with better textures and lighting. On top of that, the community could unlock a new feature called Weapon Trade Stations.
The Weapon Trade Station is a new economy feature that seems to be brand new in the battle royale system. We've seen stores, buy stations, or other ways to purchase items, but no one has created a trade system specifically for weapons.
Here's a complete list of Weapon Trade Station opportunities and their respective rewards:
Common Gun
Another randomized Common Gun with a full clip (one magazine or clip, with no additional ammo)
Uncommon Gun
Common Gun with a full clip
One randomized Lethal Equipment
One randomized Tactical Equipment
Rare Gun or Melee Weapon of Any Rarity
Common Gun with a full clip (no extra clip)  
Armor Satchel or Rare Field Upgrade
Gas Mask
Epic Gun
Uncommon Gun with a full clip and two extra clips
Self Revive Kit
$500 or $800
Armor Satchel or Epic Kill Streak or Epic Field Upgrade
Legendary/Ultra/Heroic Gun
Rare Gun with a full clip and two extra clips
$800 or $1200
A Legendary Killstreak
A Legendary Field Upgrade or, in extremely rare cases, a Specialist Token
One Random Lethal or Tactical equipment
Custom Gun
Depending on the number of attachments you will receive a different trade from the Weapon Trade Station. The higher number, the higher the trade.
Fire Sale Deal
Accepts any Weapon and gives great rewards. Players can only do this one time per Weapon Trade Station.
Legendary Rarity Weapon with two extra magazines
One Legendary Field Upgrade or one Legendary Killstreak
One Self-Revive or Gas Mask or Armor Satchel or Durable Gas Mask (Very Low Drop %)
One Lethal Equipment or $500 or $800
One Tactical Equipment or $500 or $800
And based on the above clip from JGOD, you can use it fairly easily. In his example, if you're in quads, you can trade in two legendary weapons and have enough money for a loadout, essentially buying back your two weapons but you also receive all the extra gear.
Basically, your purchase is almost refunded immediately with other items. It's rather ridiculous and it will be interesting to see if this is working as intended or if the rewards for the trade-ins will be decreased.