Call of Duty
JGOD Uses Free-Cam Glitch to Explore Possible New Warzone Pacific Map
By Michael Grullon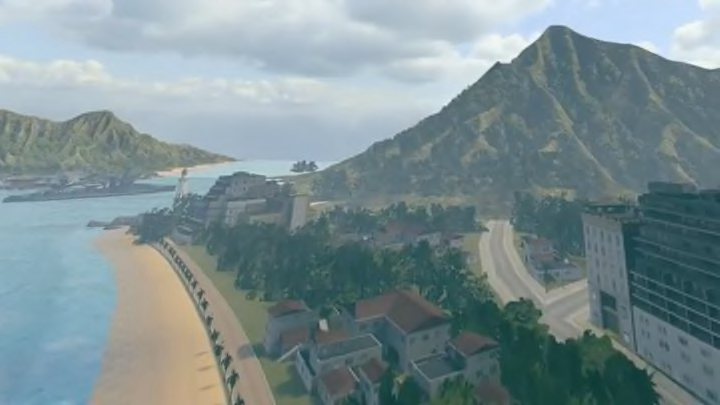 A new free-camera glitch was used by Warzone content creator JGOD to explore what may be the newest Warzone Pacific Map, Caldera. / Photo Courtesy of Activision
A new free-camera glitch was used by Warzone content creator JGOD to explore what may be the newest Warzone Pacific Map, Caldera.
JGOD used the glitch on CoD: Vanguard's Shipment map to zoom out into the sky and see the outside of the map, which looks to be similar to Caldera, the new Warzone Pacific Map.
In the video, we can see plenty of familiar sightings from Caldera's screenshot's previously shared by Activision, including the vast mountains and a building that resembles resort, a POI rumored to be featured on the new Warzone map.
There's also a bunch of ships floating in the nearby ocean that resemble another rumored POI, Naval Shipyard Ore. While the scenes aren't rendered fully, you can make out the resemblence between these locations and the ones we are expecting from Caldera.
Some people, including JGOD himself, mention that while it may look similar, the glitched map doesn't line up with the Caldera map layout released already. Since there is no swimming mechanic currently in warzone, the Naval Shipyard could be very innacurate, unless Activision reveals swimming is coming to the Battle Royale mode as a new method of travel.
The video highlighting the glitch may not show the most accurate depiction of the new Warzone Pacific map, but it definitely gets fans excited for the mode's launch in December. Activision did recently announce that Season 1 and Vanguard's Warzone has been delayed until Dec. 9, so hopefully, that means some great final touches are being added to Caldera.