João Mário FIFA 23: How to Complete the Road to the Knockouts SBC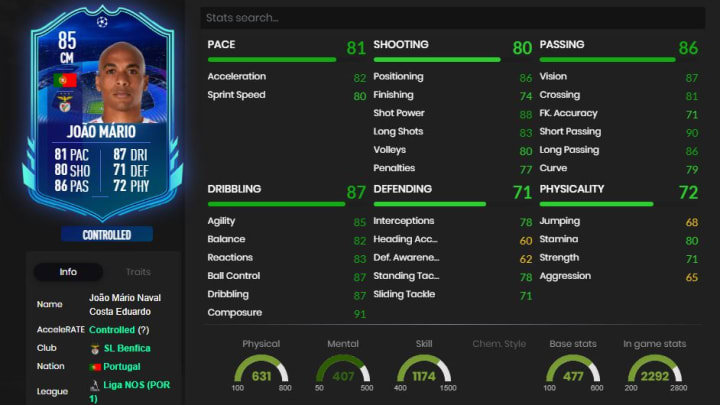 FUTBIN
The João Mário FIFA 23 Road to the Knockouts SBC is now live during the UEFA-themed promotion.
Road to the Knockouts celebrates players at clubs competing in UEFA competitions. Those competitions include the Champions League, Europa League and Europa Conference League. Players receive upgraded items and then have the chance to upgrade twice depending on two stipulations. If the player's team wins two of their three remaining group stage games in their UEFA competition, they'll receive an upgrade. If the team also advances to the knockout stage, the player will receive another upgrade.
João Mário FIFA 23: How to Complete the Road to the Knockouts SBC
Here's how to complete the FIFA 23 RTTK João Mário SBC:
Segment 1
Number of Players from Portugal: Min. 1
Squad Rating: Min. 82
Number of Players in the Squad: 11
Reward: Small Electrum Players Pack
Segment 2
Number of IF Players: Min. 1
Squad Rating: Min. 84
Number of Players in the Squad: 11
Reward: Gold Pack
João Mário's base RTTK card is an 85 overall. If SL Benfica meets both requisites, João Mário should upgrade to 88. Just one upgrade will boost Bennacer to 86. Despite being in Group H with PSG and Juventus, Benfica is currently tied with Paris with two wins and two draws.
Benfica still has to play Juventus and Maccabi Haifa, and would need to win both in order for João Mário to receive one of the upgrades. Benfica winning just one of the matches also ensures that João Mário card would get the already likely qualification upgrade, so it's not far from the realm of possibility that it gets the dual upgrade given that Benfica beat both of those teams in the previous leg. João Mário makes for a nice midfield upgrade to squads, but players have to be aware that the card is predicated on getting upgraded.
RTTK João Mário is currently set to expire on Jan. 23, 2023. However, this could certainly be an error since SBCs generally don't last for that long.