Joaquin FIFA 22: How to Complete the FUT Captains SBC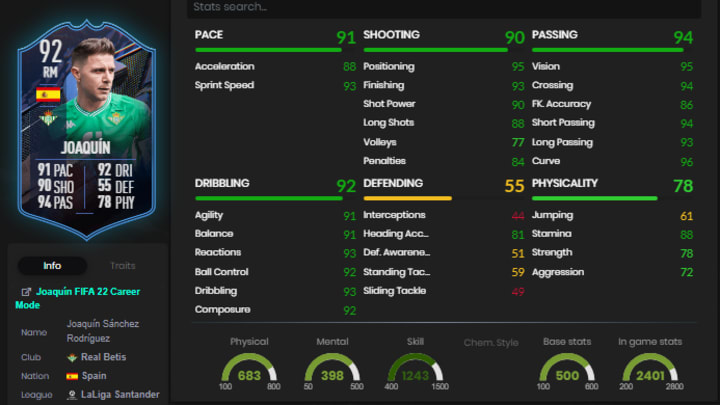 Photo by FUTBIN
Joaquin FIFA 22 FUT Captains SBC was released on April 8, the same day the new promotion hit the FIFA Ultimate Team live servers.
FUT Captains was leaked on social media by numerous content creators before EA Sports confirmed the event. EA Sports has centered the event around club and country captains and given them big upgrades. Perhaps the most exciting feature for this event is that FUT Hero players received upgrades to once again make them relevant in the current meta. FUT Heroes were new items added at the start of the game cycle that hard linked to players from the league they represented.
Players to receive upgrades in Team 1 include Freddie Ljungberg, Clint Dempsey and many more.
Joaquin FIFA 22: How to Complete the FUT Captains SBC
Here's how to complete the FUT Captains Joaquin SBC in FIFA 22:
Segment 1
Team of the Week Players: Min. 1
Squad Rating: 82
Team Chemistry: 75
# of Players in the Squad: 11
REWARD: Small Rare Mixed Players Pack
Segment 2
# of Players from Spain: Min. 1
Squad Rating: 84
Team Chemistry: 70
# of Players in the Squad: 11
REWARD: Prime Mixed Players Pack
Segment 3
# of Players from LaLiga: Min. 1
Squad Rating: 86
Team Chemistry: 60
# of Players in the Squad: 11
REWARD: Premium Electrum Players Pack
This is Joaquin's first special item of FIFA 22 getting upgraded to 92 overall from his base non-rare gold at 81. The card looks like a top tier option for LaLiga squads with phenomenal statistics in all key areas. The only thing that might hold players back is slower acceleration on the Pace splits. He's got four-star skill moves and weak foot as well which is a nice bonus.
Another thing players need to keep in mind is that Team of the Season is around the corner. Just be sure that if you're completing SBCs at this point in the game, the card will be of decent use.
FUT Captains Joaquin expires April 15 at 1 p.m. ET.