Jonjoe Kenny FIFA 23: How to Complete the Winter Wildcards SBC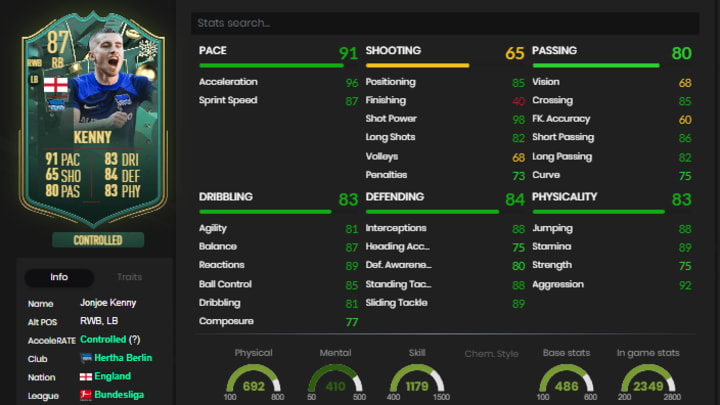 FUTBIN
Jonjoe Kenny FIFA 23 Winter Wildcards SBC went live Jan. 2 during Winter Wildcards Team 2.
Winter Wildcards returned in FIFA 23 after first being introduced in FIFA 22. The holiday promotion includes special items in packs, a Swaps program, objectives, daily player SBCs and more. The latest player SBC might be the Bundesliga defender players have been looking for either in main squads or Bundesliga First Owner squads moving forward. Hertha Berlin defender Jonjoe Kenny has received an 87 rated card, up 13 points from his silver item.
Jonjoe Kenny FIFA 23: How to Complete the Winter Wildcards SBC
Here's how to complete the FIFA 23 Winter Wildcards Kenny SBC:
Segment 1
England Players: Min. 1
Squad Rating: 83
No Chemistry Requirement
Players in the Squad: 11
REWARD: Gold Pack
Segment 2
Bundesliga Players: Min. 1
TOTW Players: Min. 1
Squad Rating: 84
No Chemistry Requirement
Players in the Squad: 11
REWARD: Prime Electrum Players Pack
Winter Wildcards Kenny is coming in around 54,000 coins to complete from scratch. Players can drop the price of the second segment down by making use of the 81+ TOTW Upgrade SBC. A tad bit expensive for what would normally not be a 54,000 coin card on the transfer market. WW Kenny does have the benefit of playing LB and RB like Joao Cancelo and he can provide a valuable English link to other items.
If you're looking for a new defender or an upgrade to Bundesliga squads, this isn't a terrible choice. Players should make sure they make use of the crafting methods at their disposals to bring the coin price of this SBC down.
WW Kenny expires Jan. 16 at 1 p.m. ET.