Jota FIFA 20: How to Complete the Player Moments SBC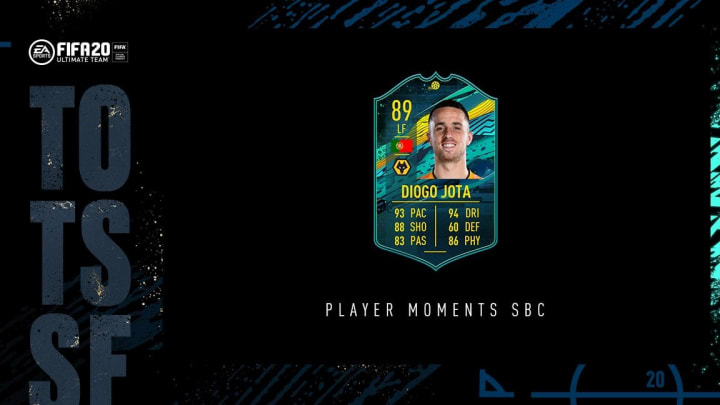 Jota is FIFA 20's latest Player Moments Squad Building Challenge reward. / Courtesy of Electronic Arts
Jota is FIFA 20's latest player to receive a special, limited-time card. Diogo José Teixeira da Silva, better known as Diogo Jota and who plays for the Wolverhampton Wanderers in the Premier League, can be unlocked by completing a specific Squad Building Challenge. Here's how to unlock the card for yourself and add it to your collection.
Jota FIFA 20: How to Complete the Player Moments SBC
Jota's FIFA 20 player moments card assigns him an 89 overall. Here are the rest of his headline stats:
Pace: 93
Shooting: 88
Passing: 83
Dribbling: 94
Defense: 60
Physicality: 86
To unlock the card for yourself, you'll need to build a team that meets the following requirements.
Segment 1
Number of players from Wolverhampton Wanderers + number of players from Liverpool: Minimum 1
IF + B MOMENTS Players: Minimum 1
Squad Rating: Minimum 85
Team Chemistry: Minimum 75
Number of players in the Squad: 11
Reward: 1 Prime Mixed Players Pack
Segment 2
Numbers of players from Portugal: Minimum 1
Squad Rating: Minimum 86
Team Chemistry: Minimum 70
Number of players in the Squad: 11
Reward: 1 Premium Gold Players Pack
Segment 3
Number of players from Premier League: Minimum 1
Squad Rating: Minimum 87
Team Chemistry: Minimum 65
Number of players in the Squad: 11
Reward: 1 Rare Electrum Players Pack