Juan Mata FIFA 22 Challenges: How to Complete the End of an Era Objective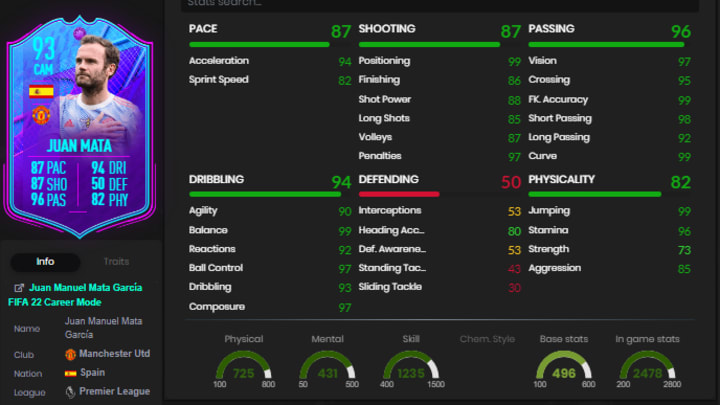 Photo by FUTBIN
Juan Mata FIFA 22 challenges are now live after EA Sports released a special End of an Era item celebrating the Spaniard's career for Chelsea, Manchester United and Spain's national team.
EA Sports released three End of an Era items at the start of Ultimate Team of the Season: Juan Mata, Cesc Fabregas and Angel Di Maria. The first two are available through objectives while Di Maria is an SBC. Fabregas is completed through Squad Battles or Rivals while Juan Mata requires players to create a squad and head into a Live FUT Friendly.
Juan Mata FIFA 22 Challenges: How to Complete the End of an Era Objective
Here's how to complete the EOAE Juan Mata objective in FIFA 22:
Skillz - Score five goals using players with min. four-star skill moves in the Live FUT Friendly: League Challenge
Cross Training - Assist six goals with crosses in the Live FUT Friendly: League Challenge
Winner in 5 - Win five matches in the Live FUT Friendly: League Challenge
Forward Thinking - Score using a forward in 10 separate matches in the Live FUT Friendly: League Challenge
Completing each objective will net players the expected experience and packs associated with objective items, but players will also get a TOTS Swaps 2 Token.
A common complaint with Juan Mata and Fabregas' cards is that they aren't boosted enough to reflect End of an Era cards. Especially at this point in the game cycle, there are so many items available. Players who want any of these EOAE cards for theme teams will probably add them, but they don't quite match up to some of the best items available in TOTS.
Of course, this is a free card to complete so have at it.