FIFA
Julian Draxler FIFA 22: How to Complete the Player Moments SBC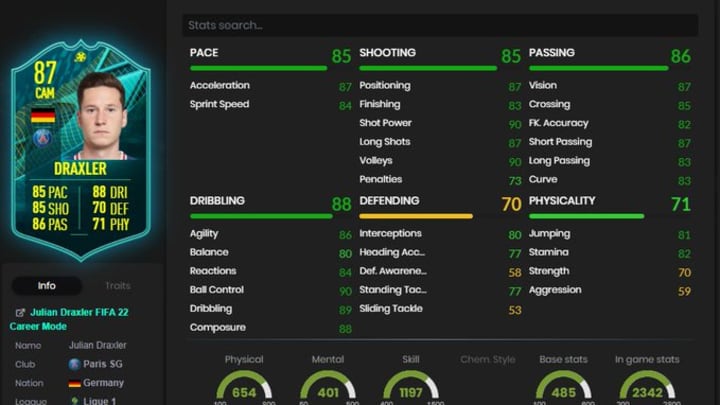 Photo by FUTBIN
Julian Draxler FIFA 22 Player Moments SBC went live as presumably the last piece of content for the Adidas Numbers Up promotion.
EA Sports has released two promotional squads for each promotion so far. The developer has even gone as far to add new promotional items in packs on weekends as well. There has been no indication of a second squad coming to the Adidas Numbers Up promotion, so it appears this Moments Draxler SBC will be the last item released.
Julian Draxler's Moments item celebrates a goal he scored against Bordauex in the Adidas Nemeziz boots during the 2018/2019 season.
Julian Draxler FIFA 22: How to Complete the Player Moments SBC
Here's how to complete the Moments Draxler SBC in FIFA 22:
Segment 1
# of Players from Paris Saint-Germain: Min. 1
Team of the Week Players: Min. 1
Squad Rating: 83
Team Chemistry: 75
# of Players in the Squad: 11
REWARD: Small Gold Players Pack
Segment 2
# of Players from Ligue 1 Uber Eats: Min. 1
Squad Rating: 85
Team Chemistry: 65
# of Players in the Squad: 11
REWARD: Rare Mixed Players Pack
Segment 3
# of Players from Germany: Min. 1
Squad Rating: 87
Team Chemistry: 55
# of Players in the Squad: 11
REWARD: Mega Pack
Moments Draxler is upgraded to 87 overall from his base 80 item. He received the following boosts to his face card stats:
Pace: +11
Dribbling: +6
Shooting: +9
Defending: +12
Passing: +6
Physicality: +5
Draxler already benefits from having four-star skill moves and a five-star weak foot. He also has Outside Foot Shot and Finesse Shot for traits. It's one of the most well-rounded cards in the game. The only problem is that it's a bit expensive. A common complaint in FIFA 22 is that items like Draxler wouldn't be worth the SBC price if it was a tradeable item from packs.
Some would argue that he's the price he is because he hard links to numerous meta items like Lionel Messi, Neymar Jr., Kylian Mbappe, Presnel Kimpembe, Marquinhos and Achraf Hakimi. There are ways to decrease the overall coin value, thanks to four new League SBC sets as well.
Draxler's item was released alongside two new POTM items as well: Lucas Paqueta and Christopher Nkunku.
Moments Draxler expires Nov. 25 at 1 p.m. ET.