Jurrien Timber FIFA 22: How to Complete the FUT Birthday SBC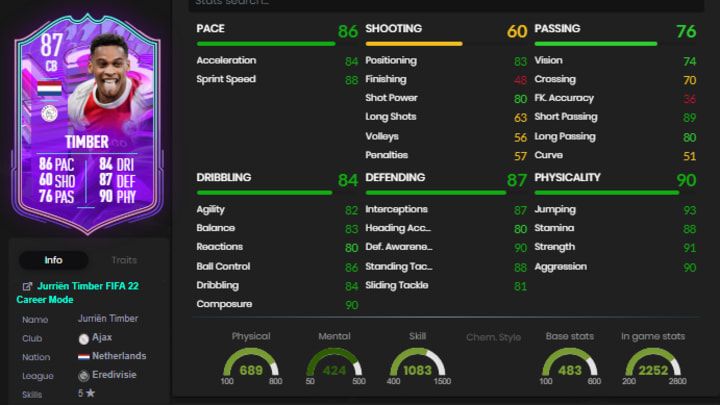 Photo by FUTBIN
Jurrien Timber FIFA 22 FUT Birthday SBC went live March 7 as the daily player release during the anniversary-themed promotion.
FUT Birthday is an annual FIFA Ultimate Team promotion that celebrates the game mode's release years ago. Each day, EA Sports releases a player SBC and a puzzle SBC highlighting a previous release in the promotion's franchise. While the theme has changed over the years, FIFA 22's them keeps the theme of upgrading a player's weak foot and skill moves. For FUT Birthday Timber, his skill moves were upgraded to five stars making him a tricky defender to play against.
Jurrien Timber FIFA 22: How to Complete the FUT Birthday SBC
Here's how to complete the FUT Birthday Timber SBC in FIFA 22:
One Segment
# of Players from Netherlands: Min. 1
Team of the Week Players: Min. 1
Squad Rating: 84
Team Chemistry: 65
# of Players in the Squad: 11
Some players might avoid this SBC considering Timber plays in the Eredivisie, but it's not that difficult to get him on full chemistry. Plus, at around 48,000 coins to complete from scratch, it's a great value SBC. He's got well rounded stats in necessary positions and the five-star skills is an added bonus.
Players can hyper link him to the likes of Ryan Gravenberch, or strong link him to Dutch Icons, Lisandro Martinez, Nicolas Tagliafico and more. He'll make for a great option in any future Eredivisie first owner squads as well for objectives.
FUT Birthday Timber expires March 11.