K/DA Returns with New Single Ahead of Full EP Release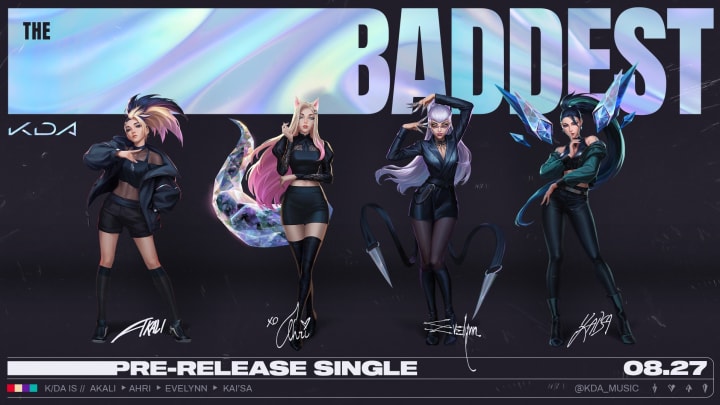 "THE BADDEST" is the new single from virtual girl-group K/DA. / Courtesy of Riot Games
The League of Legends virtual pop group K/DA returned Thursday with "THE BADDEST," its first song since 2018's "POP/STARS" made the group an instant sensation.
The new single releases with a lyric video, and features a new lineup of musical contributors. Although the virtual group is made up of League of Legends champions Ahri, Kai'Sa, Evelynn, and Akali, the artists SOYEON and MIYEON from K-pop group (G)-IDLE, Madison Beer and Haira Burns were behind the music and lyrics of "POP/STARS". "THE BADDEST" sees SOYEON and MIYEON return alongside new collaborators Bea Miller and Wolftyla.
K/DA will follow the single with a full length EP by the same name featuring several to-be-named artists. The Riot Games Music label will release the EP later this year. Riot Games says the EP will move away from the K-pop sound of the group's debut single and embrace a more global pop sound.
K/DA is one of three virtual musical groups composed of League of Legends characters. Pentakill is Riot Games' interpretation of heavy metal, while True Damage is a hip-hop-focused spin-off from K/DA. As popular as those groups are, neither has approached the viral success of K/DA itself.