Kamada FIFA 20: How to Complete the Player Moments SBC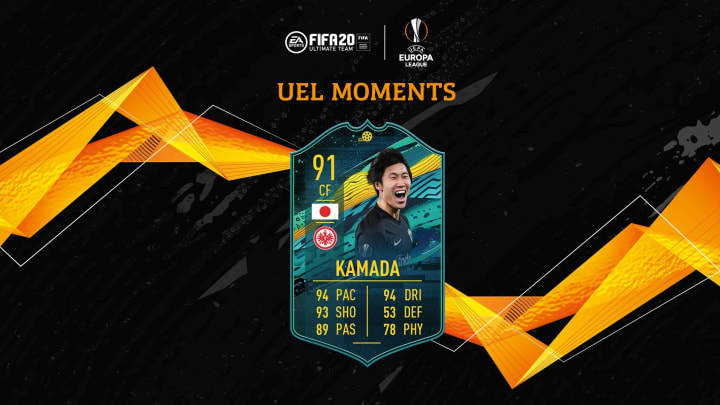 91 Rated UEL Moments Daichi Kamada SBC out now in FIFA 20 / Photo courtesy of EA Sports
Kamada FIFA 20 is a new Player Moments SBC released Wednesday.
EA Sports gave Japanese forward Daichi Kamada a Player Moments card in recognition of one of the best games of his career in the 2019/20 Europa League.
Kamada's base card is a 73 rated rare silver CF but with an overall rating upgrade of 18. The player has now become a deadlier player and a danger to opposition, just like his 53 minute hat-trick brilliance against Red Bull Salzburg.
Here's how to complete Kamada's Player Moments SBC:
Kamada FIFA 20: How to Complete the Player Moments SBC
Players can earn themselves a deadly CF Kamada by completing his Player Moments SBC.
Requirements
# of Players from the Bundesliga: Min. 1
TOTSSF, TOTW or TOTW Moments: Min. 1
Squad Rating: 86
Team Chemistry: 70
# of Players in the Squad: 11
Be resourceful as there are promo packs out each day to decrease the overall cost of the player SBC. At its lowest, the SBC will cost players from scratch 130,000 on Xbox One and 140,000 on PlayStation 4, but there could be cheaper solutions to come out soon and with transfer market changes.
Daichi Kamada is not one to be underestimated as the links are possible with the release of Bundesliga TOTSSF last week. In addition, fan favorites Future Stars Takefusa Kubo and Storyline Daizen Maeda are deadly links in a Japanese squad.