Kevin De Bruyne FIFA 22: How to Complete the Flashback Silver Stars SBC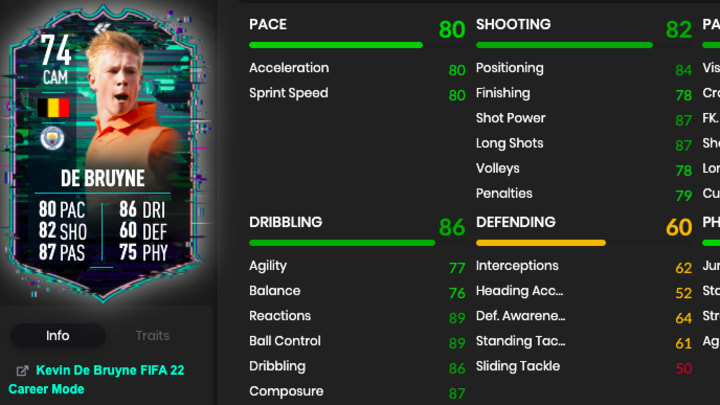 Kevin De Bruyne is FIFA 22's latest Flashback Silver Stars card recipient. / Photo courtesy of FUTBIN
Kevin De Bruyne's latest FIFA 22 card is a Flashback Silver Star card that emphasizes his stellar passing and dribbling. The Belgian center attacking midfielder's 2010-2011 season in the Belgium Pro League was one of the peaks of his ongoing career, and this Silver Star card celebrates his stellar performance on that squad. Here's how to unlock it.
Kevin De Bruyne FIFA 22: How to Complete the Flashback Silver Stars SBC
The Silver Star Kevin De Bruyne card EA released Friday is an exceptional midfield controller, dribbling and passing well to facilitate aggressive play. Here are the full headlining stats:
Overall: 74
Pace: 80
Shooting: 82
Passing: 87
Dribbling: 86
Defense: 60
Physicality: 75
Here's how to unlock the card for yourself:
Segment 1
Number of players from Belgium: Min. 1
IF Players: Min. 1
Squad Rating: Min. 82
Team Chemistry: Min. 80
Number of players in the Squad: 11
This SBC expires March 4.