Kevin Volland FIFA 22: How to Complete the Shapeshifters SBC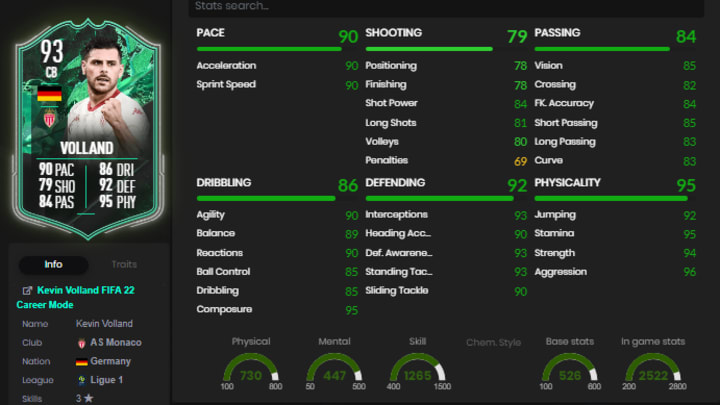 Photo by FUTBIN
Kevin Volland FIFA 22 Shapeshifters SBC went live June 30 during Team 2 of the promotion.
Shapeshifters returned after a year off in FIFA 22 highlighting players by changing their positions and how they operate. Players who normally are left wingers are moved to the right, defenders become attackers and vice versa. It's an exciting promotion that fans were originally skeptical of since it followed Team of the Season. High-end items have maintained their prices on the Transfer Market and Summer Swaps is an added bonus.
Volland, normally a striker for AS Monaco, has been shifted to center back in his new SBC.
Kevin Volland FIFA 22: How to Complete the Shapeshifters SBC
Here's how to complete the Shapeshifters Volland SBC in FIFA 22:
One Segment
# of Players from Germany: Min. 1
Squad Rating: 85
Team Chemistry: 55
# of Players in the Squad: 11
This is Volland's second special item of FIFA 22 previously receiving an 85 in-form at striker. This card has all the makings of a top defender, and provides valuable links for hybrid Ligue 1 and Bundesliga squads. It might not be the most popular player choice in the eyes of the community, but it's also not ridiculously expensive for a 93 overall item.
Shapeshifters Volland expires July 7 at 1 p.m. ET.