Top Games
KOF XV Dolores Character, Open Beta Test Dates Announced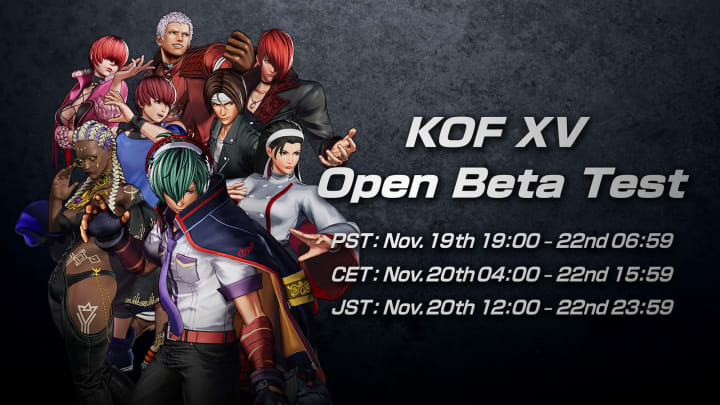 The King of Fighters XV, SNK's upcoming flagship fighting game, is set to release for PlayStation 4, PS5, Xbox Series X|S and PC on Feb. 17, 2022. / Photo courtesy of SNK
The King of Fighters XV's newest character, Dolores, and its upcoming Open Beta Test were announced in a trailer during Sony's Oct. 27 State of Play show.
After initially being planned for 2020, then delayed from 2021 to Q1 2022, the release date for KOF XV is quickly approaching for those looking to experience the fast-paced gameplay of SNK's upcoming flagship 3v3 fighting game.
KOF XV Dolores Character, Open Beta Test Dates Announced
Said to be a revered hermit in the Hinterlands of Africa, Dolores enters the KOF XV fray alongside Heidern and Isla as a part of Team Rival.
As demonstrated in the new trailer, Dolores' psychic medium capabilities allow her to contact the spirits of the earth as she uses holy soil to combat her foes.
Starting on Nov. 19, 2021, at 10 p.m. ET, the KOF XV Open Beta Test will go live exclusively for those on PS4 and PS5 looking to test out the online fighting experience, with cross-play indeed being enabled. The beta will then close on Nov. 22, 2021, at 9:59 a.m. ET.
During the Open Beta Test, players will be able to fight with eight different characters: Dolores, Shun'ei, the team members for Team Orochi — Yashiro, Shermie, and Chris — and the team members for Team Sacred Treasures — Kyo Kusanagi, Iori Yagami and Chizuru Kagura.
The test will also reportedly include two online and two offline modes. Casual Match and Room Match can be accessed online while Training and Versus are accessible offline.
The title will eventually be dropping on PlayStation 4, PS5, Xbox Series X|S and PC (via Steam and Epic Games Store) on day one. Unfortunately, those on Xbox One will not be seeing the game release for their platform.