Call of Duty
Lancehead Crossbow Warzone: How to Get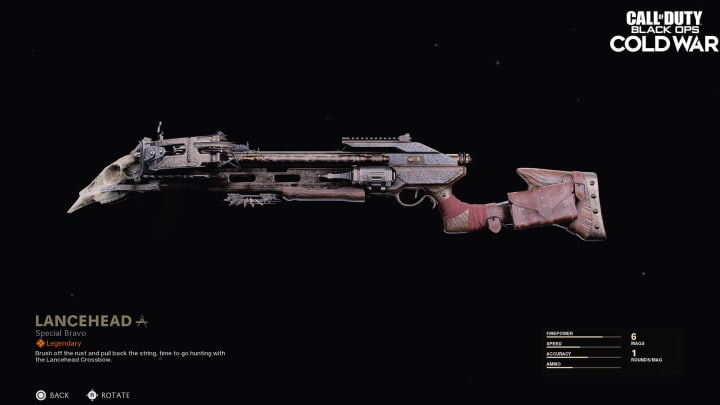 Warzone players can obtain the R1 Shadowhunter crossbow for free by completing a challenge. / Photo courtesy of Activision
Warzone players have been wondering how to get the Lancehead Crossbow blueprint for the R1 Shadowhunter which released on March 24. On Monday, Treyarch revealed details regarding the latest weapon and its accompanying blueprint.
In Warzone and Black Ops Cold War, the crossbow is notorious for being one of the worst weapons in the game. It may offer one-shot kill potential, but it has a slow reload speed and high bullet drop rate. Consequently, it is one of the hardest weapons to master in the game and will make obtaining a victory an overwhelming task.
Although many players will steer away from the crossbow, there are certainly some who will want use it occasionally. The latest R1 Shadowhunter, along with its Lancehead blueprint, provides an aesthetically pleasing weapon that players can showcase on the battlefield.
Lancehead Crossbow Warzone: How to Get
There are two ways to obtain the R1 Shadowhunter crossbow, which must be unlocked before players can use the Lancehead variant. The easiest but priciest method is to purchase the "Archaic Range" bundle from the Call of Duty store for 1,200 CP. A more difficult but free way is to complete a challenge. To do so, players must get three "One Shot, One Kill" medals in 15 different matches using a weapon with no attachments.
Players should be aware that completing the aforementioned challenge will not unlock the Lancehead blueprint. They will have to purchase the "Archaic Range" bundle to obtain it, which also includes a "Stolen Idol" charm, "Medieval Archer" emblem, and "Old Time Sniper" sticker. With the triple-double XP weekend starting on March 26, some players may want a new weapon to enjoy during the upcoming event.