Top Games
Lawsuit Accuses Activision Blizzard of Misleading Investors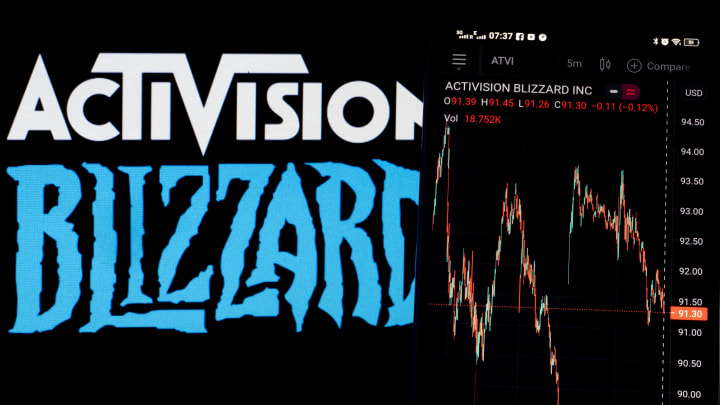 Activision Blizzard's stock price fell in the wake of a lawsuit alleging a toxic work environment at the company. / SOPA Images/Getty Images
A second lawsuit has been filed against Activision Blizzard as a result of California's Department of Fair Employment and Housing suit accusing the gaming giant of harboring a discriminatory and harassment-filled work environment. This new suit, filed on behalf of shareholders, claims investors suffered losses because Activision Blizzard failed to disclose the DFEH investigation.
The suit, available via Ars Technica, names Activision Blizzard CEO Bobby Kotick, CFO Dennis Durkin and previous CFO Spencer Neumann as individual defendants besides the company itself. The plaintiff is one Gary Cheng, and he's being represented by the self-proclaimed class-action specialists at the Rosen Law Firm.
Per the suit, the company made "false and misleading statements" between Aug. 4, 2016 and July 27, 2021 with SEC filings that made no mention of the hostility of its workplace, ignored the many complaints made with its human resources department, and failed to mention the resulting DFEH investigation.
"As a result, Defendant's statements about Activision Blizzard's business, operations, and prospects were materially false and misleading and/or lacked a reasonable basis at all relevant times," reads the suit. It goes on to note the open letter signed by more than 2,600 current and former employees condemning the company's response to the DFEH suit, and the employee walkout that took place July 28.
Those actions caused a more than 6% drop in Activision Blizzard's share price, causing a loss for shareholders made worse by their having purchased shares in the company at "artificially inflated" prices — inflated, in the suit's view, by misleadings statements from the company about the state of its workplace culture.
"Had Plaintiff and the other members of the Class been aware that the market price of Activision Blizzard securities had been artificially and falsely inflated by Defendants' misleading statements and by the material adverse information which Defendants did not disclose, they would not have purchased Activision Blizzard securities at the artificially inflated prices that they did, or at all," reads the suit. "As a result of the wrongful conduct alleged herein, Plaintiff and other members of the Class have suffered damages in an amount to be established at trial."
The suit has yet to be certified as class action, so anyone applying to be part of the class will need their own legal representation until it receives that designation.
Following a financial report and investors call that included anodyne statements around the DFEH lawsuit, Activision Blizzard's stock price recovered more than 6% of its value, rising to nearly $85 a share. It's unclear if the suit will proceed given the stock's price recovery.