LCS Spring 2023 Playoffs: How to Watch, Bracket, Schedule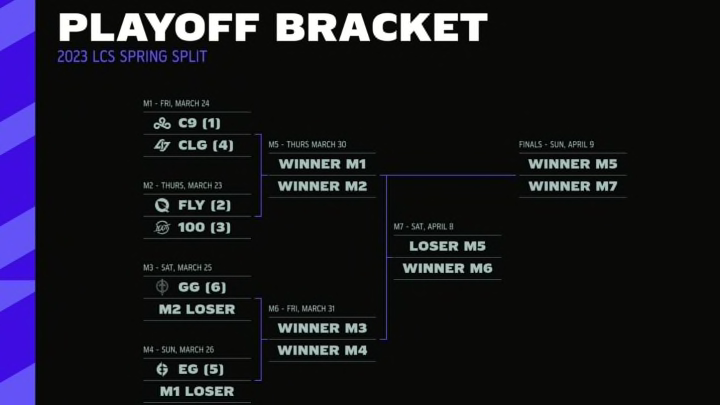 Riot Games
The LCS 2023 spring split had one of the most exciting finishes ever, as the top six teams for playoffs had to play three tiebreaker matches to determine playoff seeding. Heading into the final week, there were eight teams looking to reach top six and acquire themselves a playoff spot.
100 Thieves was sitting outside of the playoff picture a couple weeks ago due to their 5-8 record, but they went on a seven game win streak to finish 12-8 and attained third place. The Team Liquid super team with world champion Hong "Pyosik" Chang-hyeon and highly acclaimed top laner Park "Summit" Woo-tae failed to make playoffs with their subpar 8-10 record. Meanwhile, TSM was fighting for a playoff spot until the last day of the regular season.
Evil Geniuses and Golden Guardians were top four in the standings heading into the final few games of the regular season, but they dropped to fifth and sixth place after every game transpired. This means that both of these teams will be placed in the loser's bracket and will have to win four playoff series to become spring split champions.
With all this in mind, here is the bracket and schedule for the LCS spring split playoffs and how to watch all the games.
LCS Spring 2023 Playoffs: How to Watch
The LCS 2023 spring split playoffs can be watched a few different ways. One way for League of Legends fans to watch the upcoming LCS playoffs is through the official LCS Twitch or YouTube pages that run livestreams for each game. Another way to watch is via the official League of Legends esports website, which has live streams and past matches available.
Lastly, fans can also watch co-streams during LCS playoffs, as there are a couple content creators like Nick "LS" De Cesare and Christian "IWDominate" Rivera that watch LCS games on their streams.
LCS Spring 2023 Playoffs: Bracket
Riot Games
LCS Spring 2023 Playoffs: Schedule
First Round
#1 Cloud 9 vs #4 CLG (Match 1 on Mar. 24)
#2 100 Thieves vs #3 FlyQuest (Match 2 on Mar. 23)
#6 Golden Guardians vs Loser of Match 2 (Match 3 on Mar. 25)
#5 Evil Geniuses vs Loser of Match 1 (Match 4 on Mar. 26)
Winner's and Loser's Bracket Semifinals
Winner of Match 1 vs Winner of Match 2 (Match 5 on Mar. 30)
Winner of Match 3 vs Winner of Match 4 (Match 6 on Mar. 31)
Lower Bracket Finals
Loser of Match 5 vs Winner of Match 6 (Match 7 on Apr. 8)
Grand Finals
Winner of Match 5 vs Winner of Match 7 on Apr. 9